In the past, word of mouth has always been a solid channel for businesses to get more customers However, thanks to social media platforms such as Yelp, online reviews have become the new darling of marketing as they generate massive amounts of lead conversions for businesses.
The Importance of Getting Online Reviews
The 2014 Local Consumer Review Survey has published its findings this year. Almost 9 out of 10 survey respondents have used online reviews to determine if a local business is worth its salt, and 4 out of 10 do so on a regular basis. Therefore, we need to acknowledge that online reviews will affect your brand reputation and the trust that consumers have in your business. Consumers are also relying more and more on online reviews to assess your business.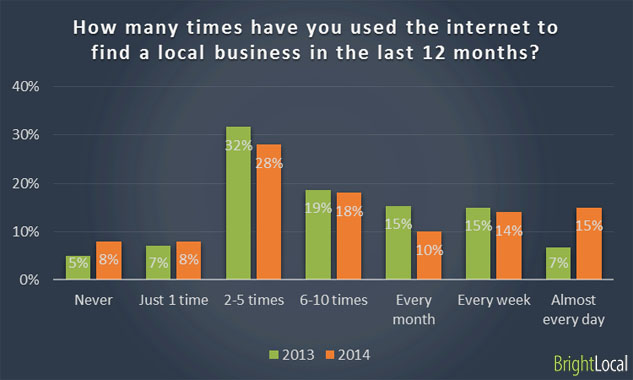 Credits: Image taken from BrightLocal's Local Consumer Review Survey 2014
With such heavy implications coming from consumer search behavior, it is time for your business to understand how to get more online reviews.
Online Reviews are Important But POSITIVE Online Reviews Matter the Most
The reviews you want for your business are positive reviews from your customers. A whopping 72% say that they would trust a business more if there are positive reviews. Make sure that you analyze your current online reviews and work on getting more positive ones to give your branding campaign a boost.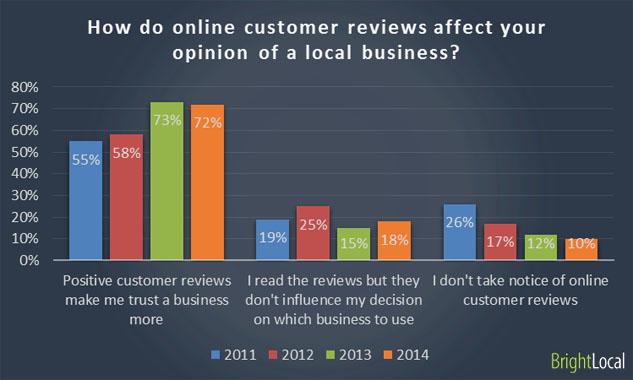 Credits: Image taken from BrightLocal's Local Consumer Review Survey 2014
Now that you know the facts dictating the need to get online reviews, let us share with you some of the best tips for getting online reviews:
Inviting Your Customers to Write You a Honest Review
Getting your own customers to write a review for your business is a great way to end up with positive reviews online. Make sure that your customers have access to your social media pages and let them know you would appreciate feedback about their positive experiences with your business. One essential tip for you to follow here is to ask for honest reviews and not just good reviews.
Don't Procrastinate in Asking for Reviews
From the point of sale to the point of asking for reviews, don't wait too long. With a good service experience, your customers are likely to give your business feedback straight away. If you don't do this promptly, asking a review from your customers after a long time poses less motivation for them to leave you a positive review.
Acknowledge Your Customers' Reviews
It is a must that you monitor your online reviews regularly. Once your customer has posted a review for your business, you should acknowledge it and thank them for the review, regardless if they have left you a positive or negative review. Be cordial in addressing negative reviews because other existing customers as well as potential customers will look at how you respond to a negative review. Your way of managing negative reviews can actually win you new customers!
Never Offer Incentives for Online Reviews
Although incentives are huge motivation for your customers to leave online reviews, this move can backfire if your customers get turned off by how you are "buying" these reviews. If you run your business fairly and always offer excellent customer service, remember that a big percentage of your customers will leave online reviews for free.
If you need more advice on how to get more online reviews for your business, talk to us at SmartSites and let us help you with this task.