A user journey is the path that a consumer takes to achieve their goal. This path is influenced by a number of elements including the 'user type' or 'persona', their goal, the 'tasks' that they undertake and the 'scenario' or 'context' in which the experience takes place.
By understanding the elements that makes up the user journey, you can enhance the experience and optimise conversion – a vital feature of successful ecommerce sites.
This article will explain the core elements which make up a user journey and explore the significance of these assets both in the context of e-commerce and outside.
The User
The user experience is subjective depending on the perspective of the user. The only way to truly improve the user experience of your website, application or portal is to know your users. Personas are fictional representations of real customers, they document the wants, needs, expectations, frustrations and technical competence of different user types. These consumer profiles enable the varying mindsets and thought processes to be understood, which are crucial when undertaking journey testing. By considering how 'Nicola the Novice' or 'Edward the Expert' might react to your online product or service will inform design and development decisions throughout the entire process.
The best way to build personas is through research. There can be a tendency in business to make assumptions about consumers and create profiles of who we think they are and what they want and think. By undertaking interviews and workshops with a handful of representations from each user type, you can build up a robust suite of relevant personas.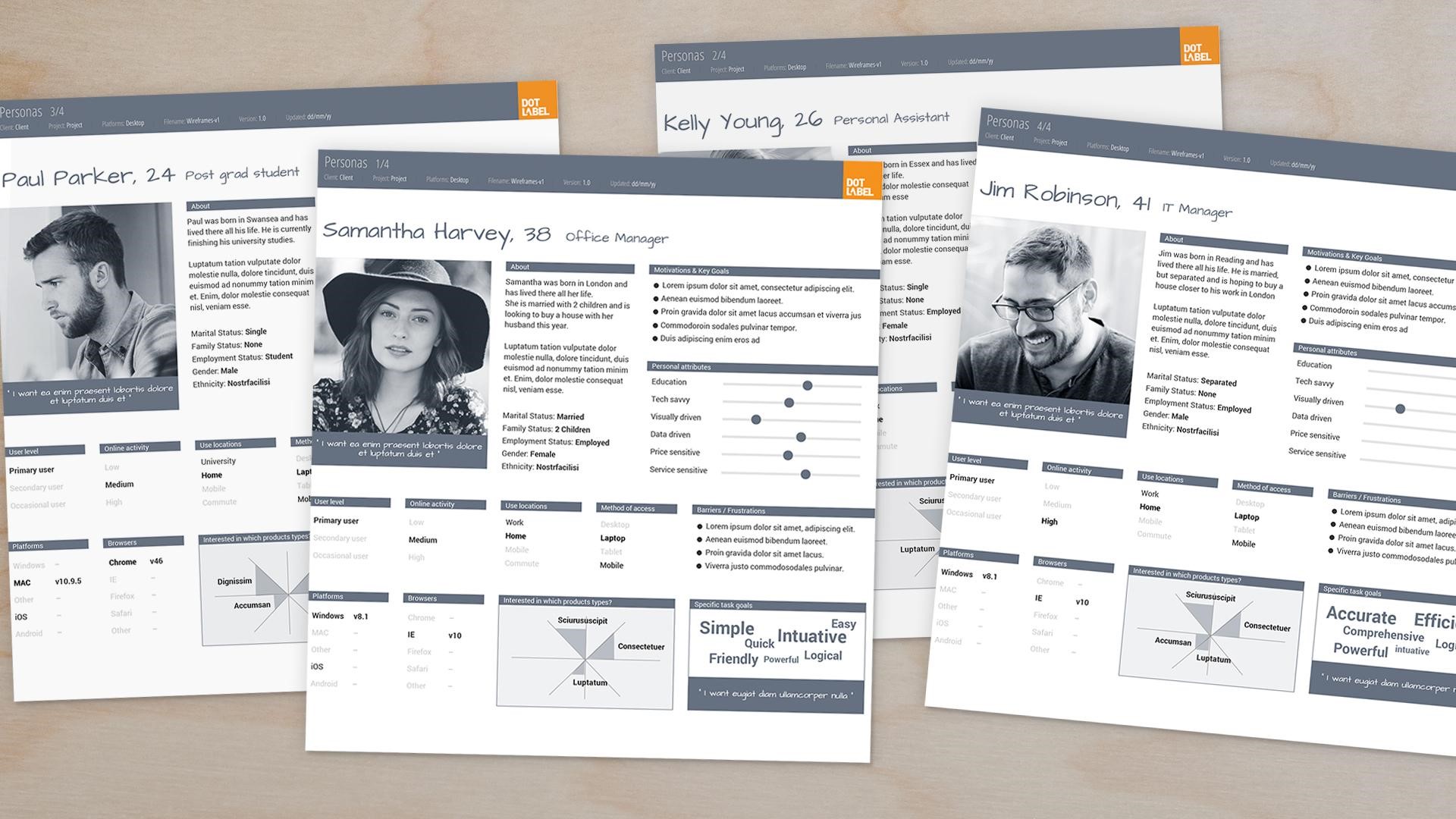 Source: DotLabel
The Goal
The goal of the user is ultimately what they want to achieve. It might be renewing their car insurance or purchasing new business software. Understanding the users' goals as well as the business goals is essential when undertaking user experience design. Getting the balance between satisfying the needs of the user as well as the business stakeholders is what achieves true success in UX.
The Tasks
These are the steps that the user takes to achieve their goal. It might include researching customer reviews, price comparisons, reading case studies, white papers and eBooks. There may also be offline tasks, such as asking friends or colleagues. It is important to note that these tasks may happen over a number of weeks, on separate occasions and on different devices.
The Scenario
The scenario is the context in which the tasks take place. It might include the reason for purchase, the location of user and the device used, e.g. on a desktop in the office, on a mobile on the train or on a tablet at home.
User Journeys for E-Commerce
Obviously there could be hundreds of different user journeys that a company could identify depending on the business and its customers. Typically a business would seek to plot the most valuable user journeys, often those which occur most frequently or have the potential to earn the most revenue are prioritised, for example the online journey to purchase the top selling products.
Once the appropriate user journeys have been identified, they are reviewed individually using relevant personas to see where they can be optimised. In e-commerce this is a huge opportunity to identify where obstacles can be removed, dead-ends can be rectified, distractions can be reduced and the motivation to complete a purchase is enhanced.
User journey testing allows for focused attention on specific issues at specific points such as; at what points during the buying journey could cross selling prevent a purchase completion? At which moment would someone be more likely to sign up to a newsletter? How many steps in the online checkout is too many and therefore causes drop-offs?
An Example – Charity Sector
It isn't just the world of e-commerce where online user journeys can have significant value. Blood cancer charity Anthony Nolan wanted to optimise their online donor registration process to increase the number of quality stem cell donors on their database. If an applicant was selected to donate stem cells, the procedure was invasive so it was imperative that the applicants were fully informed and totally committed at the point of making their application, and also for the potentially 40 years after their making application in which they could remain on the donor register.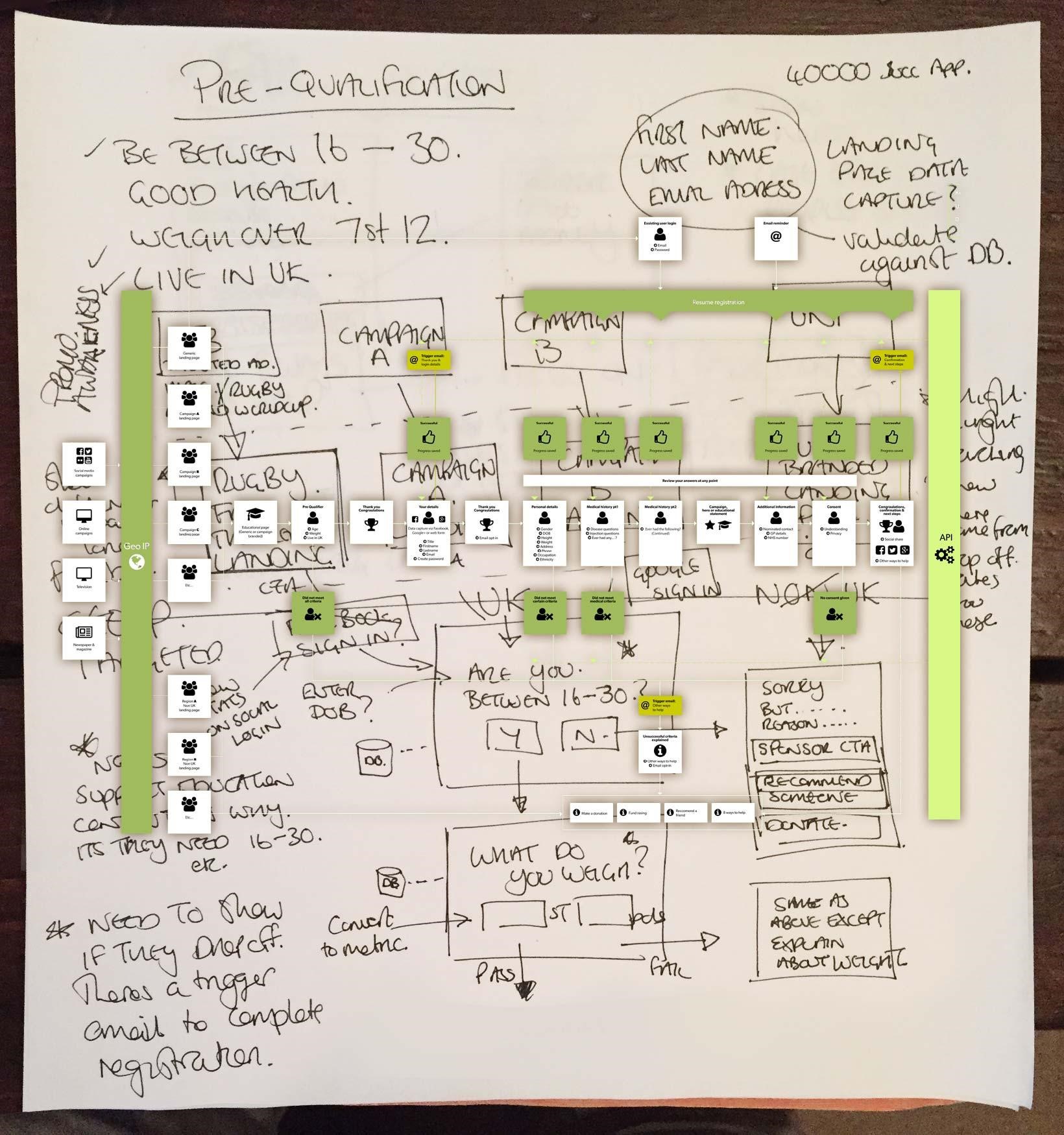 Source: DotLabel
By gaining a deep understanding of the applicant types and exploring the various issues which led to poor quality donors through research, the online user journeys were optimised.
To increase the quality of applicants relevant, sufficiently detailed information was presented at the right times along the journey, this enabled the applicants to be fully aware of their commitment and self-qualify their application. Where unsuitable applicants applied to the donor register, their journeys were carefully managed to ensure they were routed along different journeys which communicated other ways they could actively support the charity and remain engaged with the cause.
Experience Modelling
Experience modelling is often the next stage taken after the user journey mapping has been undertaken. This is an analysis of user engagement at each touchpoint stage (point of consumers interaction with a brand). By identifying the thoughts, feelings and actions of a user at each stage of a journey, it helps to identify deficiencies in the user experience.
Testing User Journeys for E-Commerce
By identifying and optimising the key journeys, it is possible to test them in real life situations. Using A/B testing methods is a popular approach, whereby on a live site, you present different versions of the same content to see which performs better. This is a great way to test different hypotheses and explore how to influence on site behaviour.  However, with each visitor being a potential loyal customer, it is safest to take a methodical and informed approach, rather than taking wild gambles and implementing negative changes which could see valuable clients lost forever.
The Significance of the User Journey in E-Commerce
Arguably, businesses who offer e-commerce have the most value to gain from understanding and applying user journeys. Increasing average order value or conversion rates can have a significant impact on the bottom line. User experience is about creating an experience that is easy and enjoyable for a consumer, if their online journeys are intuitive and seamless, it makes purchasing easy.
Guest post by Matt Oxley
Matt Oxley is co-founder and Director of the award winning User Experience (UX) and digital agency DotLabel. Matt comes from a creative design background with a passion for user-centred digital experiences. In his career Matt has held the role of Creative Director at agencies Intercea and NetSitePro providing expert advice to household brand names such as GlaxoSmithKline and Scottish Courage.