STEM Educational Center gets fresh, new website design to catapult them into 2017!
Science is cool, and now so is the new PicoTurbine website! PicoTurbine International has been at the forefront of STEM/STEAM education for almost 20 years. Since 2008, they've focused their efforts on promoting Science, Technology, Engineering, and Math programs; most recently, the A (STEAM) came into the picture in the form of Arts. PicoTurbine offers both children and adults the ability to tap into their creativity and explore the world that STEAM has to offer.
Renewable Energy, Robotics, 3D Printing Labs, and STEM teacher trainings are just a few of the many services PicoTurbine offers. When founder Michael Burghoffer first envisioned PicoTurbine, he felt it was his mission to incorporate these elements into students' everyday lives. The company's goal is to 'foster a love of STEAM learning to facilitate students' interest in becoming future engineers…" Sadly, the old website was not doing the company justice. It was difficult to navigate, and did not convey the insane innovation that PicoTurbine sought to promote.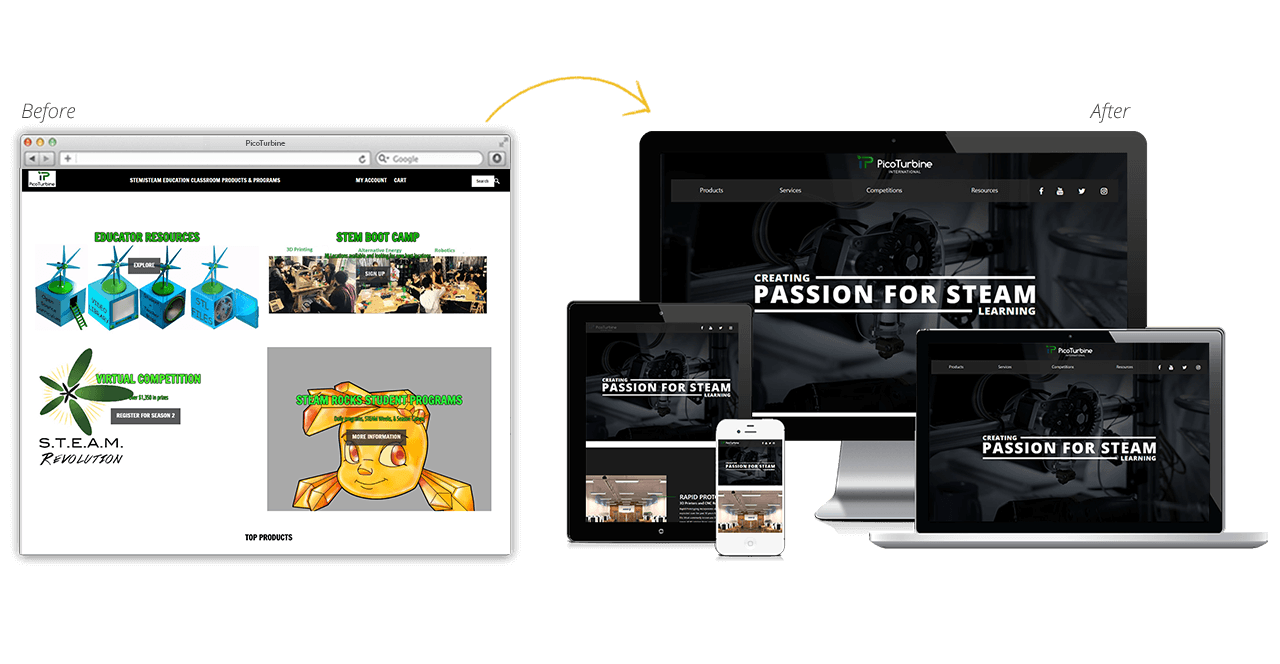 When PicoTurbine realized they needed to overhaul the old site, they weren't sure where to go. Located in NJ, they sought out SmartSites' services. Not only is SmartSites local, but they're equally young and creative. Pico needed a team that not only understood the complex nature of the STEM/STEAM industries, but also one with a knack for the startup industry. SmartSites, a startup agency themselves, proved to be the perfect fit.
The new site is now engaging as well as fun! Information about their STEAM Rocks program, which discusses teacher, student, adult, and camp programs, can be found right on the homepage under Services. Also available is material about Pico's design services. This includes, but is not limited to, CAD Design, 3D Printing Services, and Custom Program Designs. If you have an idea for a program  and want to see it come to life, PicoTurbine is your go-to! As for additional resources, information on  PicoTurbines' STEM Curriculum, as well as product manuals and instructional videos, can be found under the resources tab on the new site.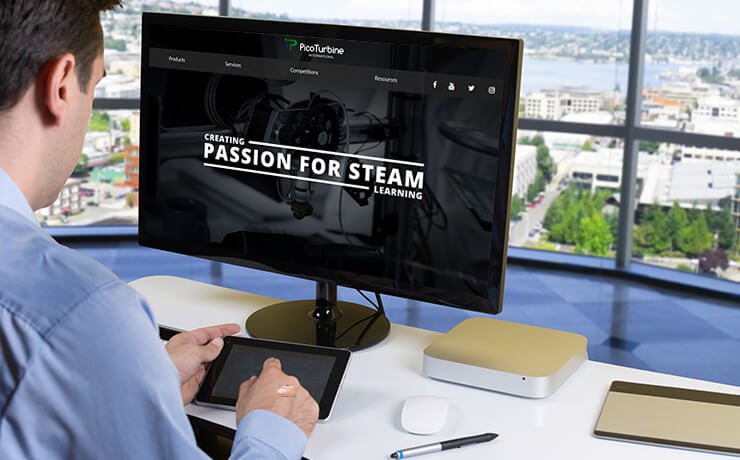 Of working with the SmartSites Team, Eric Almberg said that they "…were extremely easy and professional to work with. They were always prompt when answering emails and were knowledgeable not only on the technical aspects of making a website, but were also well versed in getting the website traction by designing with an intuitive layout and implementing SEO."
SmartSites and PicoTurbine are excited to see the new PicoNauts that come to life as a results of the new site. For more information, visit picoturbine.com or call 877-731-9966 today!