We are extremely proud to announce that SmartSites is ranked #1 out of 123 vendors on FeaturedCustomers.com for its list of leading digital marketing agencies! This accolade is extremely valuable and treasured by our entire SmartSites team because this validates the good work we have done for our customers, and signify the high level of our customer satisfaction. Because we practice a client-first approach, getting recognized on a reputable review platform based on feedback from our actual customers is priceless.
About FeaturedCustomers.com
FeaturedCustomers is founded in 2014, and aims to showcase leading IT software and infrastructure providers by ranking them based on actual customers' reviews, testimonials, and associated case studies. Currently, the website groups their rankings across 50 categories, including cloud computing solutions, IT management, digital advertising, and more.
By providing their prospective users with access to actual customers of a specific business, users can identify noteworthy niche expertise, experience, and understand the satisfaction levels of previous customers – all leading them to make better choices on which agency to hire or which product/service to buy. To date, FeaturedCustomers.com has received more than 175,626 customer endorsements for some of the leading brands featured.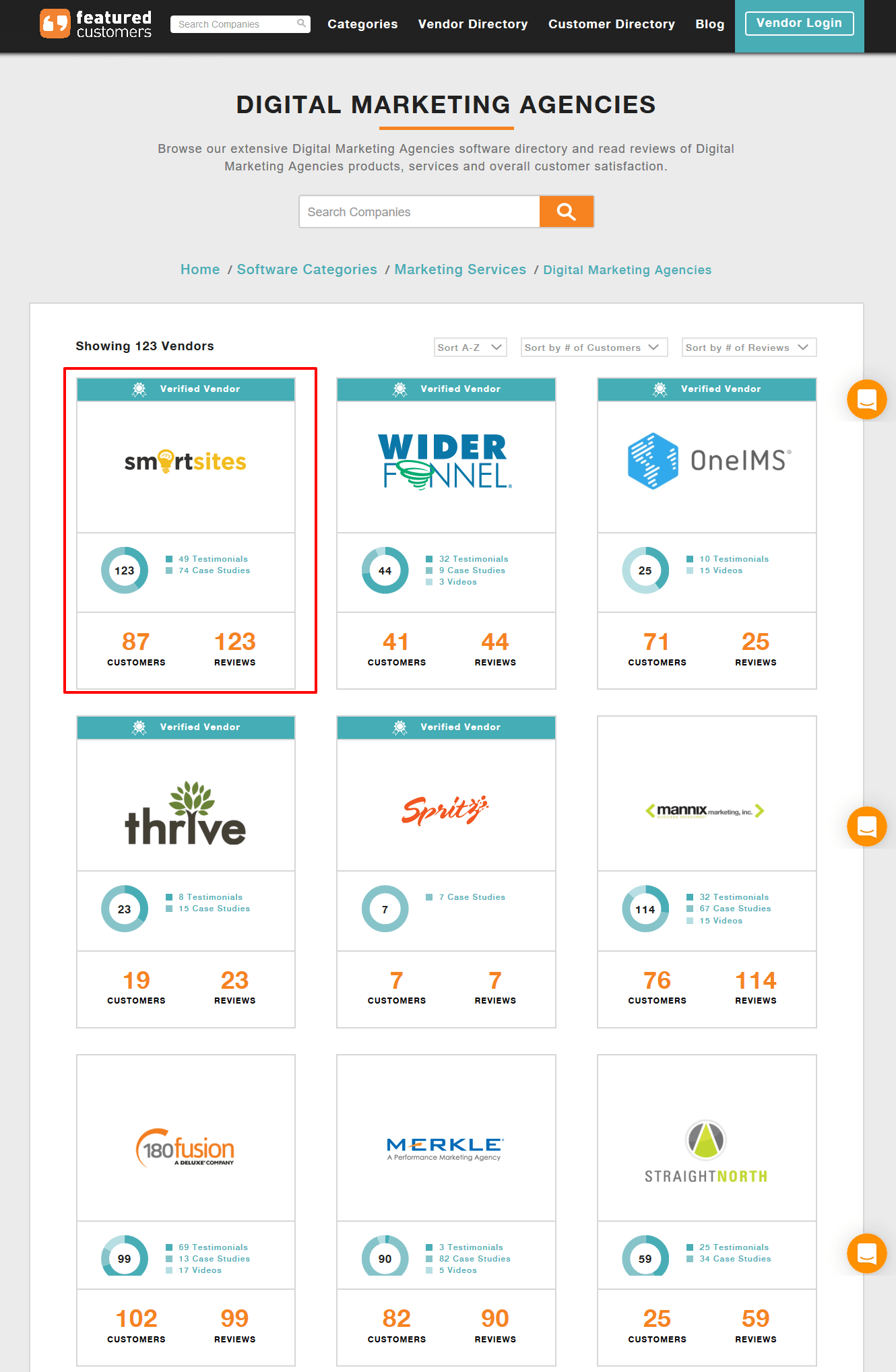 The Numbers
There are 123 digital marketing agencies reviewed on FeaturedCustomers.com and SmartSites tops the list with 49 customer testimonials, 79 case studies, and a total of 123 reviews. FeaturedCustomers also rates the quality score of the different components shown below:
Customer testimonials: Based on 15 user ratings, aggregate quality score is 4.9/5
Case studies: Based on 18 user ratings, aggregate quality score is 4.7/5
Reviews: Based on 33 user ratings, aggregate quality score is 4.8/5
Why Does the FeaturedCustomers Ranking Matter?
To understand why this #1 ranking matters to us, we have to explore how most reviews on digital marketing agencies are conducted. Many review websites out there do not take the feedback of actual customers as the main criteria for ranking agencies. In fact, a big number of them are ranked internally by the website itself, possibly contributing to biased or skewered rankings.
Because FeaturedCustomers.com only takes into consideration the feedback of actual customers, whether it's through reviews, testimonials, or case studies, prospective users can make the informed choices on which digital marketing agency to hire based on proven track records of satisfying the needs of actual customers in previous work done.
Thus, it is befitting to say that when we are ranked #1, this is a validation given to us by our own customers. Because our customers are our first priority, their validation motivates us to continue in the right direction, and inspires us to do more when it comes to web design and development, SEO, PPC, and more.
As we celebrate the good news, SmartSites knows the importance of staying humble and our entire team stays committed to serving our clients with unparalleled dedication to help their businesses prosper online. We will set our sights on maintaining our proven track record, and work towards creating new celebratory milestones in the future.