SmartSites' neighbor Quality Mica & Carpentry gets a revamped logo and website!
Living in today's digital era, face-to-face interaction is hard to come by. Still, personal attention and quality customer service never goes overlooked. Quality Mica & Carpentry, the custom provider of all things millwork, carpentry, and cabinetry, surely understands the value of achieving a job well done. That is why when they needed a refreshed digital presence, they went straight to pro's. Luckily enough, the pro's were across the hallway!
SmartSites is actually in the same office building as Quality Mica & Carpentry, so scheduling in-person meetings was a breeze. Mica's already impressive reputation was previously not conveyed through their web presence, so SmartSites aimed to develop both a logo and website that reflected their work. Able to service both commercial and residential industries, Quality Mica's versatility is just one of many reasons they shine as a top manufacturer in Bergen County.
Before working with Smartsites, Quality Mica & Carpentry's distinction was mostly spread through word of mouth. Their previous one-page digital business card did little to bring in traffic and showcase the various commercial and residential furnishings that Mica had crafted. SmartSites understood that in the competitive industry of custom interiors, Quality Mica needed a website that not only rivaled but exceeded that of the others.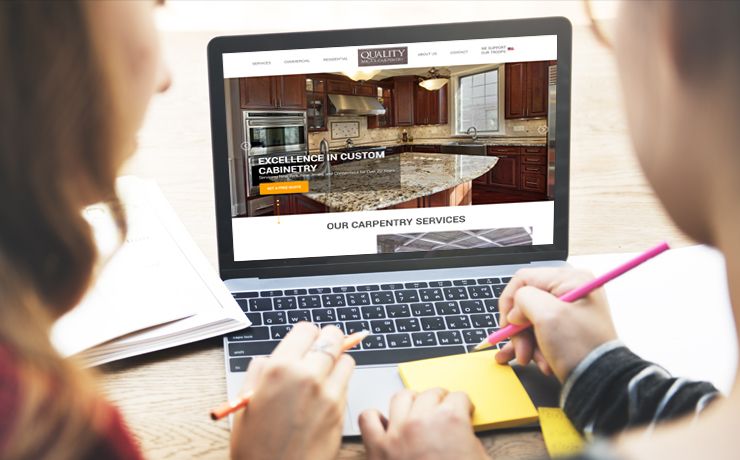 The first step was to redevelop Quality Mica's brand identity. SmartSites achieved this by exercising their top-notch design skills and reworking the Quality Mica logo. Next came the website redesign, where SmartSites made sure to showcase Mica's capabilities of servicing clients in New Jersey, New York, and Connecticut. Of working with SmartSites, Quality Mica owner Steve Lien said, "SmartSites has the best product for the price and what comes with it! Anita and her team always stayed on top of our site and always answered my questions in a fast and timely manner. They have great ideas and are the best to work with."
Now that the website has been launched, SmartSites looks forward to the ongoing digital marketing campaign they will be running for Quality Mica & Carpentry. SEO, in conjunction with the already completed services, will be the best way for Quality Mica to outfit even more homes and businesses.
To learn more about Quality Mica & Carpentry, give them a call at  877-958-0170 or visit qualitymica.com today!