Clutch, a leading B2B market research firm, recently highlighted SmartSites on its annual report of top digital marketing providers across industries. In addition to being ranked in the top three PPC service providers for dentists, SmartSites was also named a premier web designer for dentists and a top provider of PPC services for automotive companies. We greatly appreciate this recognition, and our team is excited about what it will mean for our continued growth!
Here at SmartSites, we offer a wide range of services to an even broader array of clients. We focus primarily on PPC, SEO, web design, and e-commerce development across multiple industry segments. Thanks to Clutch's sophisticated online research, interested firms can now see how we separate ourselves from our competition in these fields.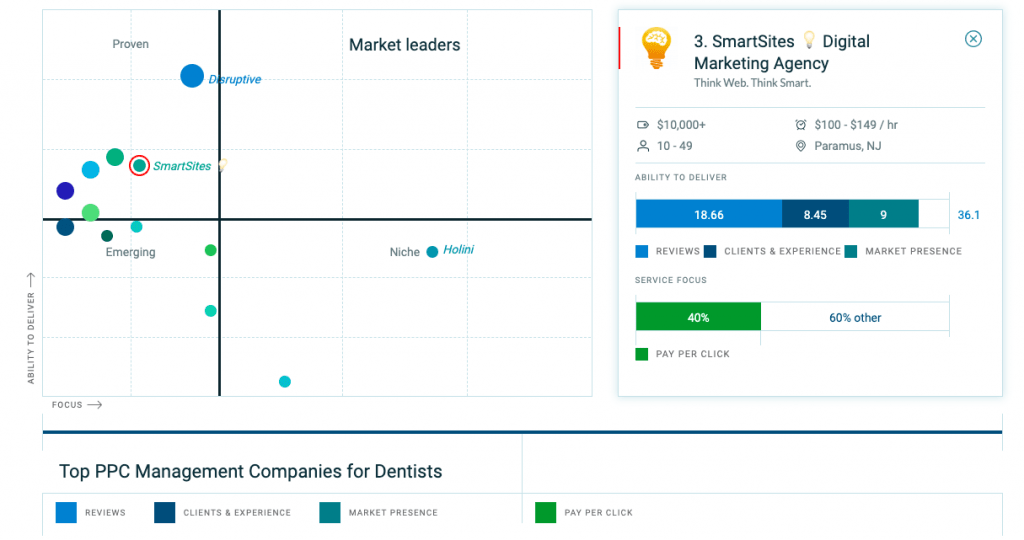 Clutch's team of dedicated business analysts conduct in-depth client interviews to understand the services offered by businesses across the globe. Our Clutch profile features over 20 reviews that each showcase our incredible services.

The above review describes a digital partnership that we have with a premium headwear retailer. We've been delivering both PPC and SEO services to help our client reach new customers through Google. It's always a pleasure to read such positive feedback about our dedicated, collaborative approach!
"They are always available for immediate support, and their advice is always spot-on. I have faith in their experience and expertise in web marketing, and they are not afraid to both take my input and at the same time give their own." – Brian Chun, CEO, Hat Heaven
We're also featured on two of Clutch's sister sites as a leading digital marketing agency in New York City. On The Manifest, a blog-style B2B resource website, SmartSites stands out as a top performer among PPC agencies in NYC. We're also ranked highly on Visual Objects, digital portfolio collection for small- and medium-sized businesses.
We're thankful for our incredible clients who have trusted us to deliver world-class digital marketing services. It is because of your faith in our team that we've been able to achieve so much.
"Being on this list is a testament not only to our dedicated team, but also to the fantastic clients that we have been able to learn with throughout the years." – Michael Melen, Co-Founder, SmartSites
Interested in partnering with us? Reach out to schedule an appointment! We'd love to discuss your digital marketing goals.