Homelessness is a deepening crisis in the United States. From increased living costs to limited housing, some individuals lost the abilities they once had to afford proper housing. In addition to experiencing financial difficulties, some individuals who are fleeing domestic violence and have no other residence ended up being homeless.
Also known as intimate partner violence (IPV), domestic violence is a pattern of behaviors that arouse fear, physically harm, or forcing a partner to behave in ways that are out of his or her true character. IPV has been perpetrated against millions of individuals worldwide. Approximately, 12 million women and men were victims of physical violence and stalking, among others.
Fortunately, non-profit groups, government agencies, families and friends have stepped in to provide assistance. This way, fewer victims have to resort to using temporary tents or sleeping in their vehicles. Many individuals who were once homeless have found space in homeless and domestic violence shelters.
Our client and partner for the event, Clothing Donation Services, is a company that works tirelessly to bring joy and add warmth to the lives of domestic violence victims and homeless individuals. In order to support great American charities, the company operates numerous clothing donation drop-off locations across New Jersey and offers convenient pick-up services. At SmartSites, we believe that a little help and love go a long way. That is why we agreed and were excited to help when the client asked if we would like to become involved in their clothing fund drive.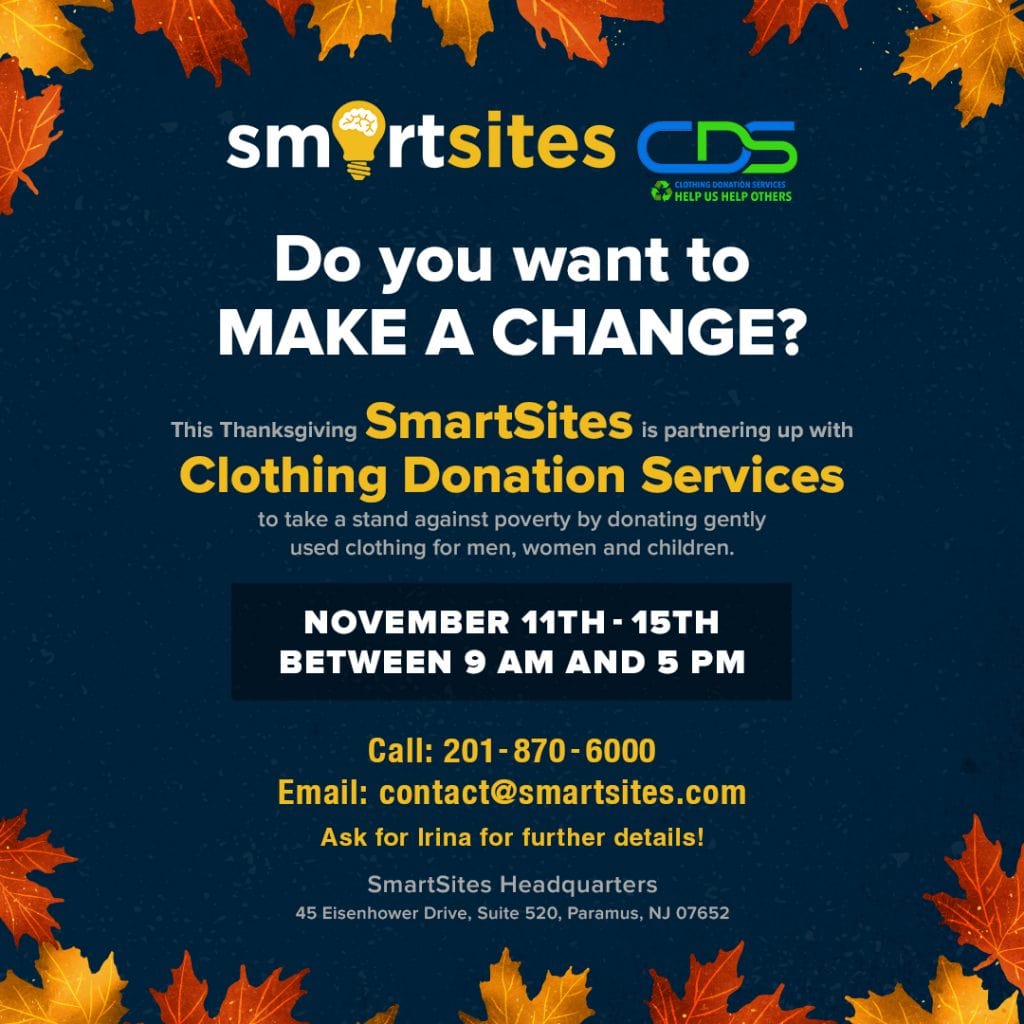 SmartSites led its own clothing fund drive between November 11 and November 15. We encouraged all of our clients to donate clothes for men, women and children. The pre-owned items were dropped off at our office, picked up by Clothing Donation Services, and then distributed to charities that resell the clothing in thrift stores. The money will then go to shelters for homeless and domestic violence victims.
We had a great time collecting lightly used clothing items from our donors. Witnessing these items being sent to the charities gave us a sense of satisfaction. The entire process was extremely easy because a Clothing Donation Services attendant worked closely with us and guided us every step of the way.
"Often, we are so busy, so stressed out, so tired and in such a rush that we forget that there is a whole world around us. Some of the people in that world are not as lucky as we are so it feels great to know that even if we just give a little, it can help others immensely," said Irina, one of our beloved Project Managers at SmartSites.
Want to Learn More about SmartSites?
If you are interested in finding out what SmartSites does in the digital marketing world, we are more than happy to answer your questions! Whether it is web design and development, PPC, or SEO, we can develop solutions to improve your rankings in search engine results pages or manage your sites on the most popular online marketing platforms.
Feel free to contact us by calling 201-448-9010 or sending an email to contact@smartsites.com.