SmartSites Co-Hosted An Email Marketing Webinar With Clyde

Ashley Ismailovski
CRO Operations Manager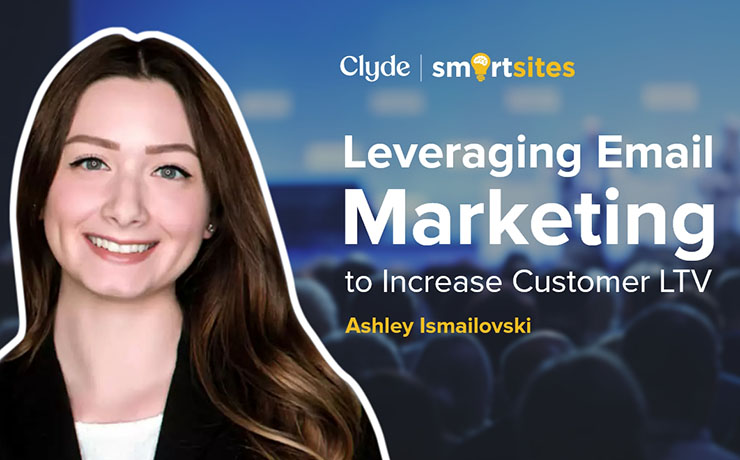 SmartSites and ownership enrichment platform, Clyde, partnered to present a webinar highlighting how ecommerce brands can use email marketing to increase customer lifetime value (LTV). SmartSites' CRO Operations Manager, Ashley Ismailovski, was a co-host for this webinar. She shared insights on the product ownership funnel and how it can be strengthened through email marketing.
SmartSites & Clyde Partnership
In 2021, SmartSites became one of Clyde's early-adopting partner agencies. What's really unique about an agency's relationship with a tech partner is that not only are our clients given a great tool to work with, but we have the capabilities to offer the services needed to drive marketing strategies around Clyde. In the case of email marketing, our clients can count on our support for day-to-day activities (i.e., campaigns, automations, and list growth integrations) and to optimize how platforms like Clyde are integrated into their marketing plan to generate better results.
SmartSites & Klaviyo Partnership
SmartSites is also an agency partner with Klaviyo, one of the leading marketing automation platforms on the market. Klaviyo quickly became one of our favorite email platforms because of the ownership it gives our clients over their customer data. This is one of the main reasons why Klaviyo has been so successful. The intuitive platform increases visibility into a brand's entire funnel. Klaviyo customers see an average of 122x ROI by using the platform.
Clyde & Klaviyo Integration
During the webinar, panelists discussed the new integration between Clyde and Klaviyo. This first-of-its-kind, direct integration allows users to use their Clyde data within Klaviyo to send targeted automations and campaigns. Klaviyo flows can be used in one seamless process to increase brand loyalty, promote higher clickthrough rates, improve the customer experience, and drive a higher profit margin. Learn more about the integration here.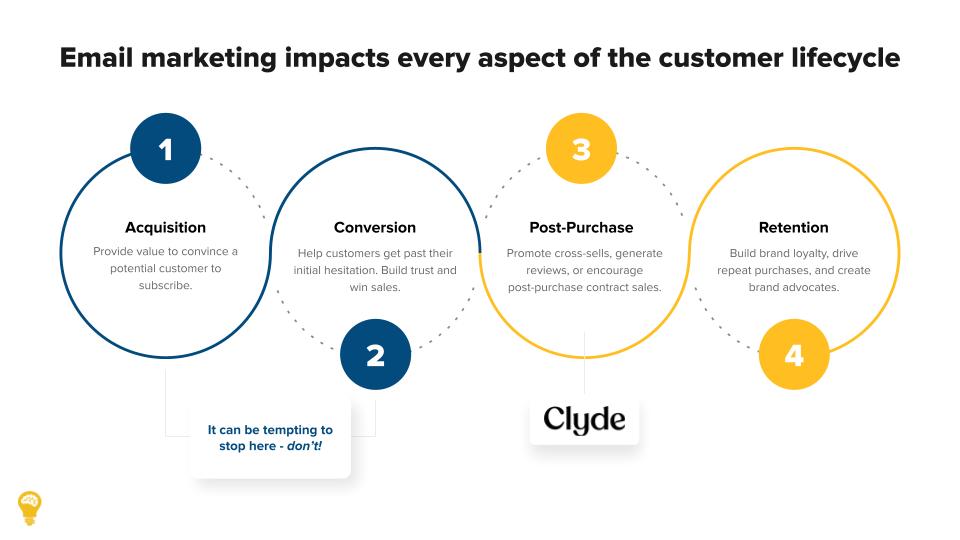 How Email Marketing Impacts the Customer Journey
It all starts with understanding the customer lifecycle. When brands focus on enhancing the whole customer journey, you can deliver a more memorable experience for customers, which leads to repeat purchases, positive reviews, and new customers via referrals. With this in mind, we can apply this approach to our email marketing strategy. What we see most often is that brands will start and stop with the first conversion. What they are neglecting here is everything that happens post-purchase. After you make a sale, you not only have the opportunity to leverage a positive experience into a 5-star review online, but you gain the ability to retain your hard-earned customers and convert them again.
By building brand loyalty through sending emails with discounts off the next purchase or special incentives or rewards, this will keep customers coming back for a 2nd and 3rd purchase. Automation will also allow brands to deliver these messages at the right time to each individual customer depending on their behavior and purchase history. This is done through cross-sell flows and subscription reminders. The goal is to create an ecosystem of qualified, high-intent leads & customers that you can continue to market to time and time again.
Brands See a 10x ROI with SmartSites Email Marketing Services!
As the webinar progressed, Ashley Ismailovski shared real client examples about the returns they have seen by leveraging on email marketing to maximize their customer LTV. Through our CRO services, our client, Coldie Holdie saw a 485% increase in revenue from email marketing. Another client of ours, R&Y A/C Compressors, saw a 10x return on their all-in CRO spend!
Coldie Holdie specializes in printing customized koozees to suit a wide variety of occasions, including weddings and bachelorette parties. Although weddings are a once-in-a-lifetime event, leaving little opportunity for repeat purchases, SmartSites saw the opportunity to leverage customer referrals for this brand. This was achieved through converting existing customers into brand ambassadors, who then spread the word about Coldie Holdie's products to their friends and family. The results were amazing: both site traffic and revenue were increased significantly through our email marketing strategies.
For R&Y Compressors, their business model afforded the opportunity for more traditional upsell and cross-sell marketing approaches. One of the first things we did with this brand was establish customer segments based on make & model for previous purchases, as well as engaged segments to see where customers were dropping off. This allowed us to make tailored cross-sell recommendations to our subscribers that resulted in a boost to our overall conversion rate, and ultimately ended up giving this client a much better return on their all-in spend.
If you'd like to read more about the amazing results we have achieved for our clients, check out these Case Studies here!
Q&A Session Discussing How to Strengthen Product Ownership Funnels
To close the webinar, a Q&A session was held in conjunction with the Director of Agency Partnerships at Clyde, Chloe Fisher, and Senior Product Manager, Matt Schultheiss. During this session, Ashley Ismailovski shared some email marketing best practices, including:
Setting up an automated Welcome Series to put customers on the path to purchasing – for instance, a discount code in return for email signups.
List segmentation, which helps to drive more relevant and effective content towards different groups within your database.
Implementing loyalty programs to incentivize the next sale, such as offering rewards for leaving an online review or referring a friend.
Setting up an "Back in Stock" flow to inform customers when an out-of-stock item they are interested in purchasing is back in stock.
By the end of the webinar, participants walked away with a range of new insights from the thought leaders in the field.
How SmartSites Can Help Brands Increase Customer Lifetime Value with Email Marketing Services
SmartSites can help you craft successful email & SMS campaigns that help you grow your audience, sustain brand awareness, and drive repeat purchases. Our CRO Specialists focus on your business's goals, be it lead generation or ecommerce sales, to implement personalized messaging that gets the right message out at the perfect time. Looking to increase your customer lifetime value? Feel free to contact our CRO specialist today!