NYC Security Consulting Company rethinks safety with a redeveloped website.
When viewing the NYC skyline, high rise buildings with pointed tops decorate the sky. They light up the night, almost glittering. These buildings are maintained meticulously, and although it is often overlooked, keeping these structures secure is an important aspect of their maintenance. That is exactly what Sentinel Consulting does. As the leading provider of innovative security solutions, Sentinel professionals help their clients plan, conceive, and implement protection systems to keep buildings all over the Tri-State area safe and secure.
Sentinel Consulting works with a variety of different industries. Over 30 years of experience has allowed them to provide secure environments with a big picture understanding. From Commercial Property Security Assessment to Education Facility Security Management, Sentinel does it all. Although they cannot specifically publish which buildings they provide security for, it is likely that many of the major shopping centers and high rises are within their portfolio.
Unfortunately, Sentinel's previous website did not reflect their robust capabilities. Outdated and limiting, the old website kept this innovative company in the dark ages and it was time to bring their modern services into this day and era.

Located in NYC's Penn Plaza, Sentinel is positioned perfectly to work with any of the various web agencies in Manhattan. Yet, they went for a different approach. Sentinel owner Paul Benne preferred a more personal connection to the team who would be building his company's online presence, and therefore engaged New Jersey's own SmartSites. Meetings were frequent, via screen share calls and in person, so the SmartSites and Sentinel teams could remain on the same page at all times. This process clearly worked as significant changes to the site and overall business improved Sentinel across a multitude of platforms. SmartSites' wealth of experience working on B2B projects, as well as adapting to clients' individual needs, made for the perfect partnership.
The new website now reflects the growing business that is Sentinel Consulting. Sentinel engaged a third party to produce videos, which SmartSites seamlessly integrated into the website. The videos not only tell the Sentinel story, but they also convey the company's versatility and ability to work with any kind of security project. The site is easy to navigate, alluring, but also clear and concise. The security industry is complicated enough, so Sentinel aimed to maintain a simple and aesthetically pleasing site.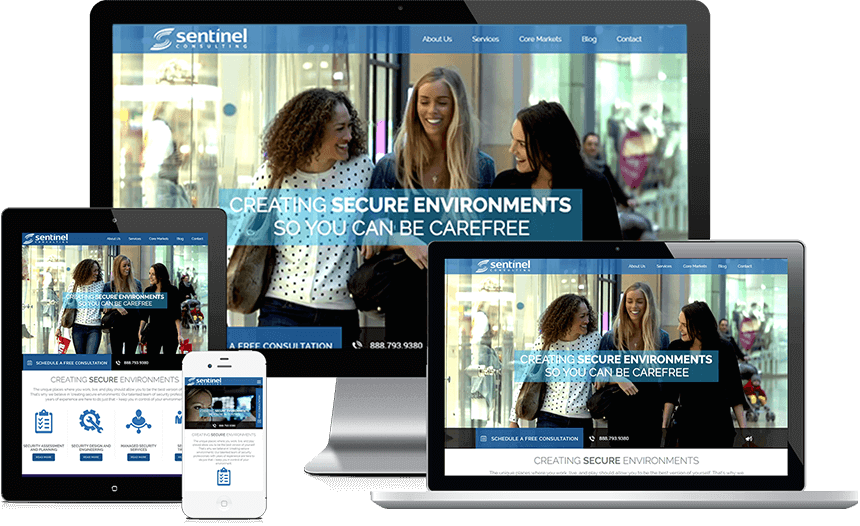 The SmartSites team worked hand in hand with Sentinel's internal employees for content development. The approachable but secure feel that the new website offers, is one that both agencies are proud of. Moving forward, Sentinel will continue to work with SmartSites for website maintenance and ongoing consultancy services. To learn more about Sentinel's services, or to speak with a representative, fill out a contact form or call 888-793-9380 today!