Jersey City pizzeria gets total website redesign from NJ Web Designer SmartSites
Despite the city's ever changing landscape, Renato's Pizza Masters has been a staple of the Jersey City dining scene for almost 60 years. The De Marchi family established ownership of the restaurant in 1959 as both a fine dining eatery as well as a pizzeria.Rich, the current owner, took full control in 1976. Along with his sons Mark and Lorenzo, Rich operates Renato's Pizza Masters out of 278 Central Avenue, Jersey City, NJ.
While both Renato's Restaurant as well as Renato's Pizza Masters have grown substantially throughout the years, their web presence did reflect the quality service and delicious food they are known for. With an outdated menu, and a dearth of pictures, the old website also did not work on mobile devices. This made it hard for those on the go to locate and review Renato's menu. It was time for an overhaul and SmartSites, the NJ-based digital agency, was just the team for the job.
Based in Bergen County, NJ, SmartSites has quite a bit of experience working with small to medium sized businesses. Renato's Pizza Masters site was a great opportunity to not only expand SmartSites' palate, but also to help the digital team progress in terms of their food-industry clients.

When Renato's initially reached out to SmartSites, they indicated their desire to keep the site simple, easy to navigate, and aesthetically attractive. Sticking with the theme of community, the entire team behind Renato's Pizza Masters sought to highlight their commitment to feeding Jersey City's hungry bellies. The new website not only features Pizza Master's robust menu, but also provides information about Renato's Fine Italian Dining. In addition to pizza, both menus offer an array of other items including appetizers, soups and salads, hot and cold sandwiches, and Pasta dishes.
The new PizzaMastersJC.com works just as well on all mobile devices as it does on a desktop computer. Additionally, a Daily Specials tab will be regularly updated to feature Pizza Master's Special Dish of the Day. A catering menu is also available for those looking to feed a family event or a larger party. If you are in the Jersey City area, stop by Renato's and tell Lorenzo that SmartSites sent you!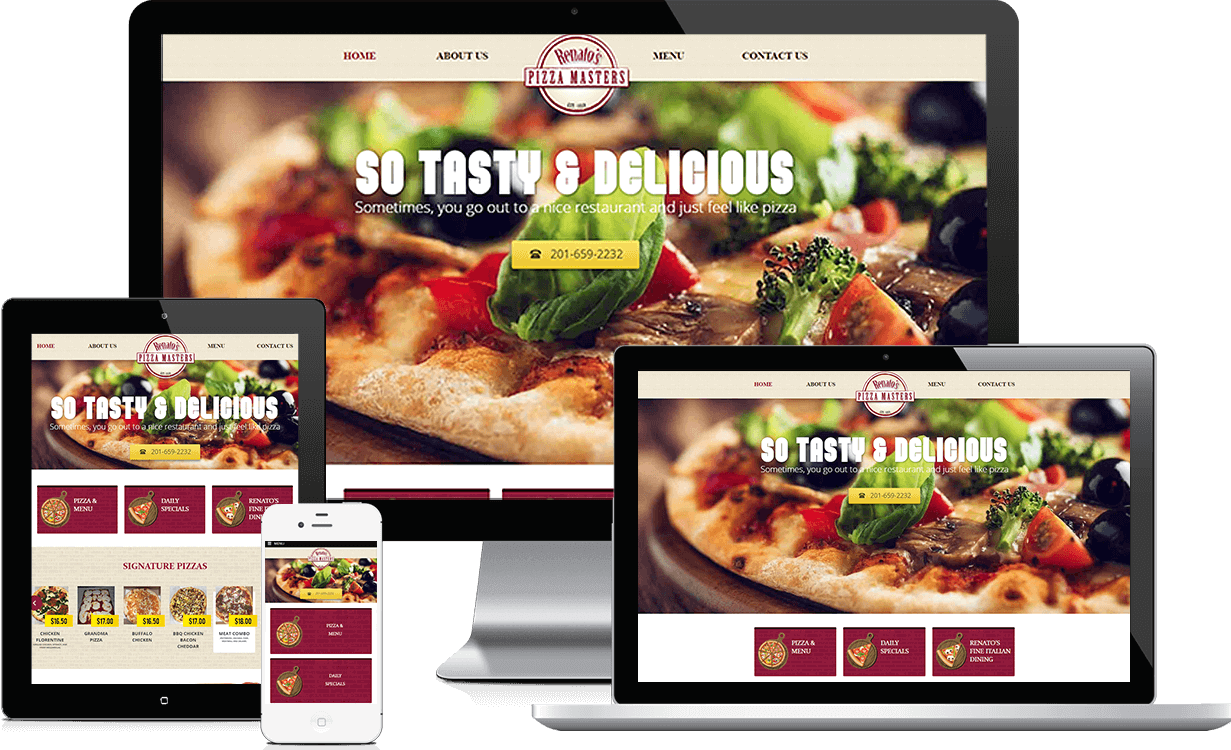 The SmartSites team encourages anyone who loves pizza to head on over to PizzaMastersjc.com or visit the parlor in person!