Proxy Key, an industry-leading proxy provider that offers both USA proxies and global proxies, launches a redesigned website with the help of the NJ-based SmartSites team.
When you want to protect your privacy online, one of the best solutions is to utilize proxies for surfing the Internet. Where do you get these proxy servers from? Well, you should definitely get them from one of the best in the proxy business – Proxy Key! A trusted proxy provider since 2006, Proxy Key offers highly anonymous IPs that you can use on any browser or computing software.
With multiple data centers located worldwide, Proxy Key ensures that their customers can benefit from high performance proxy servers that come with super fast processing speed. They proudly boast a 99.92% historical uptime, and you don't even need to hassle with any installation to get started. What's more, their US based customer service team is highly efficient and can address any issue you have in the shortest time possible.
Proxy Key practices a client-first approach, and that's why they deemed it necessary to redesign their website in order to serve their customers better. The Proxy Key team also wanted to introduce new customers to the usefulness of proxies in today's privacy-focused culture, and decided that the best way to do so is to harness the power of SEO to gain new audience, and more market share.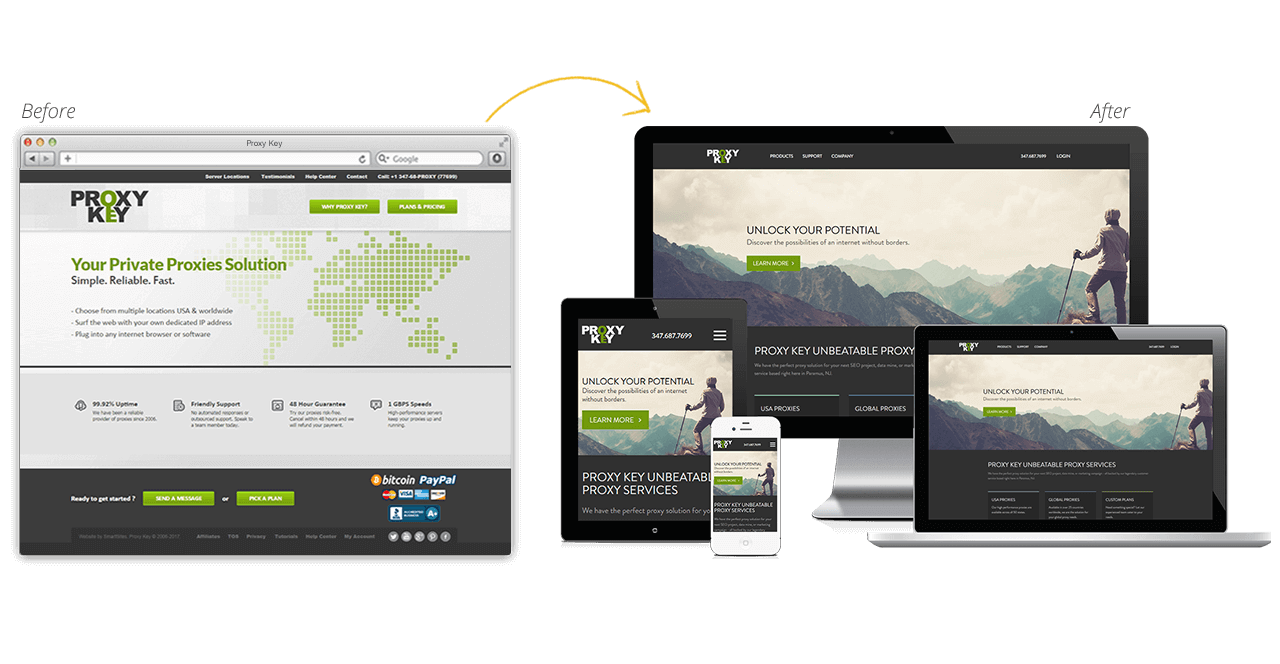 That's why they have engaged SmartSites, a SaaS marketing industry expert based in New Jersey, to help them redesign their website. While the key purpose of the website redesign was to achieve a more contemporary+techy look, Proxy Key wanted the new website to be enhanced in terms of SEO so that it can rank better in online searches and yield them new customers.
One of the foremost things that our SmartSites team tweaked first was to add mobile responsiveness to their website as it wasn't there previously. The reason for this is obvious – most consumers today search on their mobile devices for information online, and having a mobile-friendly website is essential to provide the best user experience for incoming traffic.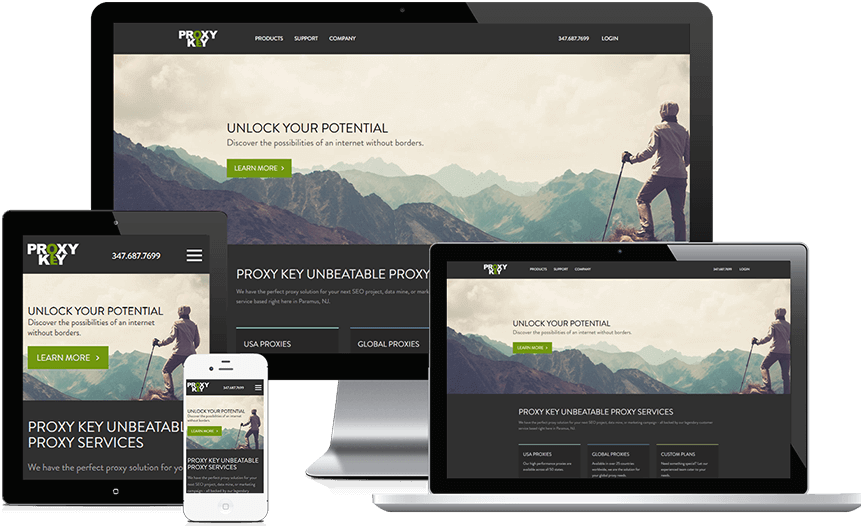 We also fully understood that SEO is a huge concern for Proxy Key, and that's why we have put together a solid plan to push up SEO effectiveness in all areas possible. First, we started writing brand new SEO-friendly content that spans over 400 unique pages. Here's a simple breakdown to illustrate what we have done:
75 Location Page
100 Compatible Website Pages
75 Competitor Versus Pages
150 Knowledge Base Pages
30 Blog Posts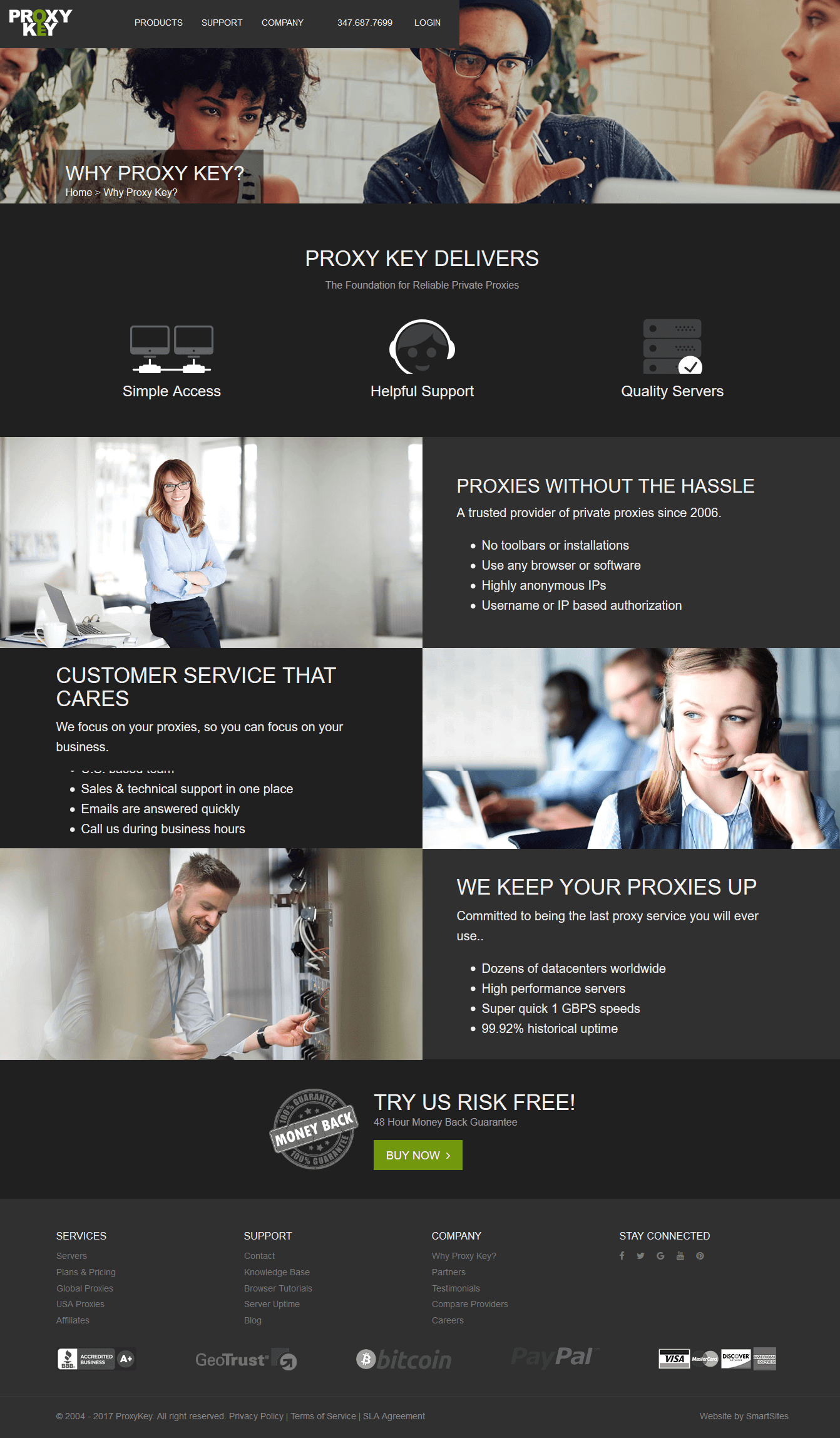 The aim of these pages is to boost local SEO, create LSI keywords, and overall to help the website rank better in the SERPs. Not only that the quantity is important; the quality matters too. This can be seen on the Why Proxy Key? page and the Server Uptime page where we utilize persuasive writing to help target audience understand the strong capabilities of Proxy Key, and why they should be chosen as the preferred proxy provider.
During the website redesign, we also place an emphasis to simplify the purchase process so that potential customers will find less reasons to abandon a sale. Now, no matter which page a customer lands on, it only takes three clicks to get to check out.
With all our combined efforts, the bounce rate for the new website went down from 11.92% to 5.79% (comparing day before launch vs. day after launch). Visitor time spent on the site up from 37 seconds to 1 minute 11 seconds. This also demonstrates strongly that Proxy Key is now engaging their site visitors better than before.
If you want to follow the footsteps of Proxy Key and enable your SaaS business to gain new customers, engage target audience better, boost the aesthetic appeal of your website, and improving your bottom line, give the SmartSites team a call today.