Syosset-based Neurology Center gets fresh new website with the help of local web designer, SmartSites.
The brain is, without a doubt, one of the most complex organs in the body. Made up of a network of billions of nerve cells called neurons, the brain works 24 hours a day, constantly providing the body with a plethora of information. Northern Neurology Specialties (NNS), a boutique medical practice located in Nassau County, New York, operates quite similarly. They deliver specialty neurology services to the surrounding community on a non-stop basis. Northern Neurology takes a therapeutic, yet holistic approach to each of their patient's treatment plans, always putting their patients' wellbeing as the top priority.
Northern Neurology is comprised of a diverse team; Dr. Jill Bressler, M.D. is a native Long Islander who has been practicing Neurology since 1997. Practice Administrator Anthony Caponera has a background in financial advisement and law. After working within the confines of the previous website for quite a while, the entire Northern Neurology team decided that it was time to rethink their web presence in order to continue providing optimal care to their patients.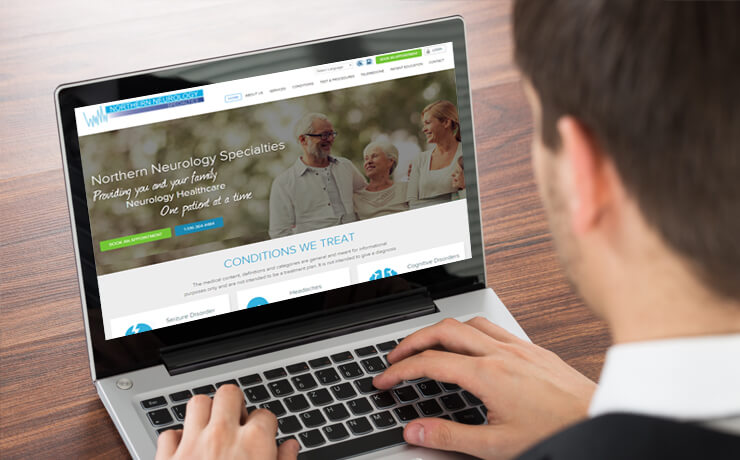 The first step in that process was to find the right team to walk them through the website redesign. SmartSites, a Bergen-County-based digital agency, proved to be the perfect team for the job. SmartSites already had experience working in the medical field, and was therefore attuned to the delicate nature that accompanies such an industry. Building an informative but friendly site that would be both user-friendly and easy to navigate for Northern Neurology's patients, remained the focus throughout the entire project.
Then came the specifics. For the new site, SmartSites incorporated a language translator to accommodate Northern Neurology's non-English speaking population. Also integral was a downloadable Accessibility App for the practice's disabled patients. A keyboard and mouse replacement solution made it much easier for patients with disabilities to seamlessly use the site; no longer would those struggling with motor-muscle skills be barred from accessing their medical history and information. Now patients of all capabilities can use the site, regardless of whether or not typing, mouse navigation, or optical screen-reading is accessible to them.
The new website also has a thorough list of all the conditions NNS treats. The team felt it would be helpful if current and potential patients had a center from which they could gather more information about their situations. Additional information about the broad spectrum of services, tests & procedures, and telemedicine solutions offered by NNS are also available on the site, for those looking to learn even more.

Booking appointments online is now a breeze, as is reading up on individual studies through the Patient Education center. SmartSites is extremely proud to have produced a site for the practice. Of working with the NNS team, project manager Anita Kostadinov said, "Jill and Anthony do such meaningful work, and it was gratifying to have the opportunity to build a website to promote their services even more. Neurological conditions are sensitive topics, and if this new site helps any of their patients access care even a little bit more easily, I will have done my job."
For more information on Northern Neurology Specialties, or to book your appointment, visit their website or call 516-364-4484.