Not-for-profit partners up with local web-design agency to produce a lively new website.
Community Blood Services, a not-for-profit organization that offers blood donation and more to the greater NJ/NY area, just launched a freshly redesigned website and the entire SmartSites team could not be prouder to have worked with them!
CBS, founded in 1953, and located in Montvale, New Jersey, previously housed an outdated and less-than-user-friendly website which visitors found to be rather confusing. When trying to determine how to donate, users often became frustrated with the old site's navigation structure. Administrators also found the old site difficult (or rather, impossible) to change and edit, as it was built in static HTML. This presented a significant challenge for the CBS team; it meant that anyone without a web developer's knowledge was left in the dust.
Given the fact that Community Blood Services is a huge organization with a variety of different departments, it was essential that the website be properly organized to meet each department's individual needs. The broad target audience which CBS reaches also had to be given a tailored but also accessible outlet so each person donating felt they were being properly taken care of. Furthermore, CBS is a not-for-profit, which operates quite differently from a more standard corporation with regards to administration and the approval board. These seemed like serious challenges, but SmartSites was up for them, and more.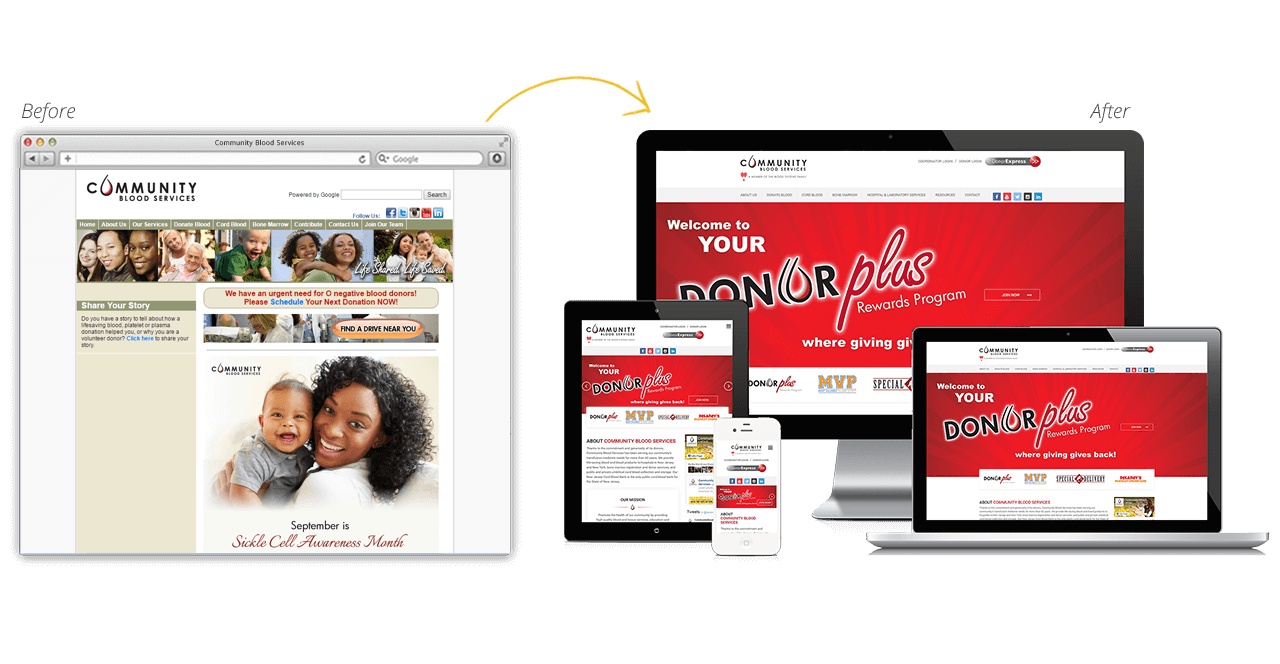 Thinking with CBS' audience in mind, SmartSites' approached the redesign of the website with a mobile-first mentality. Incorporating an easy-to-navigate organization structure meant more people could use the site from any device, which, in turn, meant CBS could better service those in need.
Blood donation can become a confusing process for many, so SmartSites aimed to simplify the process. The old website featured many different blood donation categories, and donors were often unsure of which one to choose. The new site now features clearly organized sections and subpages so potential donors can easily access their appropriate service. For example, if one individual intends to donate cord blood and another bone marrow, each will be directed to distinct areas of the new website.
The aesthetics of the site were also important; blood donation is a serious topic, but SmartSites and CBS wanted a friendly and inviting site that would offer comfort to visitors. SmartSites implemented re branding through colors and graphics that flowed better with the existing logo than on the previous site.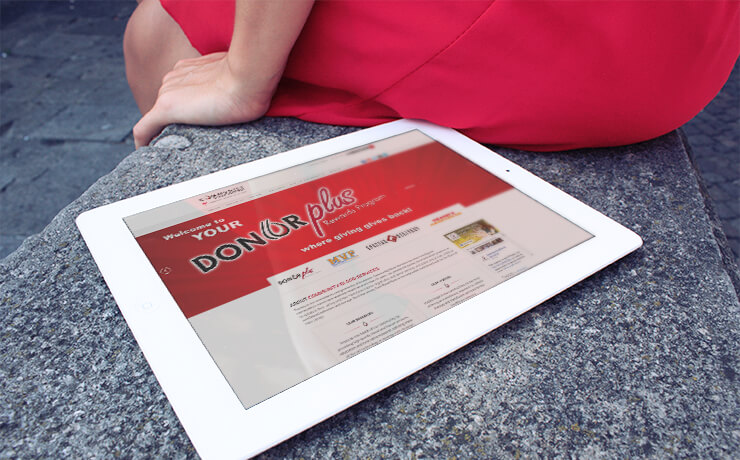 In order to push all of these new developments live, the team at SmartSites engaged in quite a few in-person meetings with the CBS team. Various levels of administration had to give approval for the project to work as seamlessly as it did. Of working with SmartSites, Community Blood Services' Print & Digital Graphic Artist Joe Bulaon said, "SmartSites did a wonderful job creating my company's website. Our site has a great design and is very modern. Their staff is very thorough and they responded quickly to our requests. They are very professional and detail-oriented. Overall, we had a great work experience and we are happy with the results. Look no further for your web development needs!"
The new site is now the warm and welcoming face of an organization that provides vitality to so many people. SmartSites is proud to have worked on the project and looks forward to involvement in other not-for-profit opportunities.