It's already a struggle for regular websites to gain organic search traffic. But the struggle is even more difficult for ecommerce websites. You're competing with thousands of other websites that sell similar products. So you need to carefully strategize ways to boost your organic visibility, which will improve your organic search traffic and eventually, your sales.
In this post, we will discuss a few tricks that can boost organic search traffic for your ecommerce site.
Create Great Content
There is really no substitute for great content. For SEO, it's important that you publish fresh content regularly. At the same time, you cannot let the quality of content go down. You can run an SEO content performance analysis to understand how your existing content is performing, and make improvements accordingly.
The benefit of having an ecommerce website is that you can always produce fresh content in terms of new product descriptions, pricing, offers, etc. Encourage your customers to write reviews. This also a great way to have fresh content every day. You can even start a blog to provide your customers with buying guides, product tutorials, and more.
Here is an example of ModCloth's Blog where the retailer is discussing style and fashion DIYs and know-hows.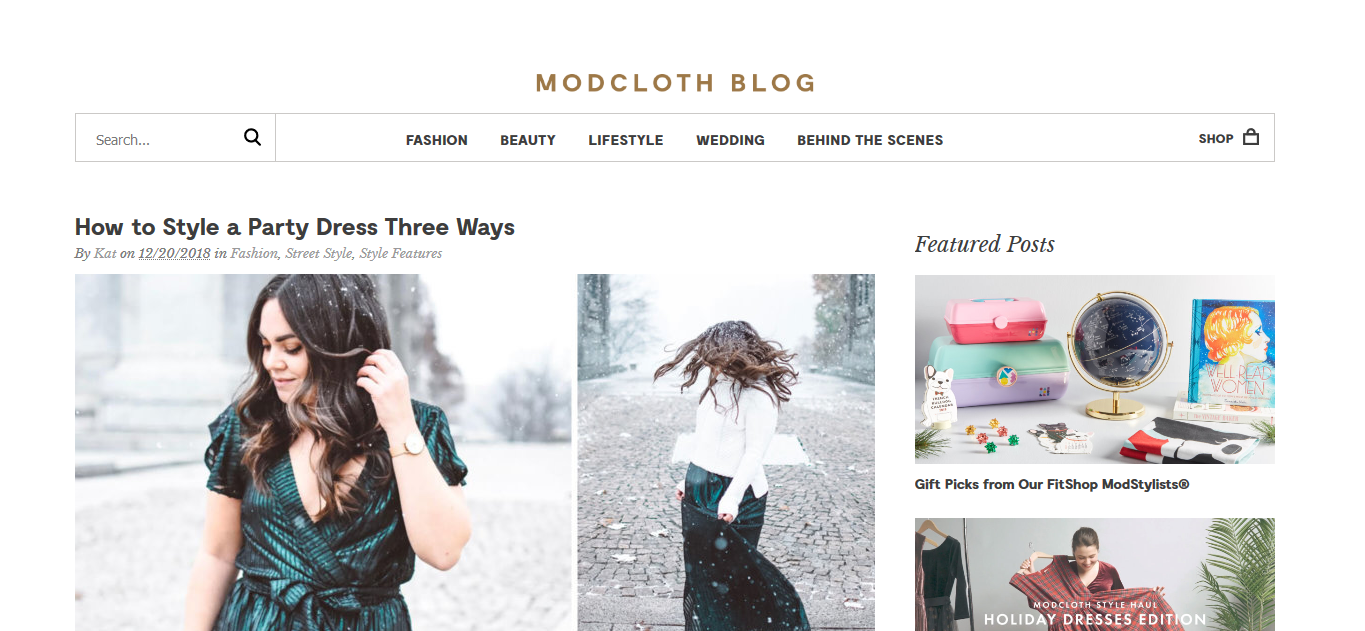 Image Source: ModCloth Blog
Update Your Keyword Research
You already know that keyword research is one of the most important parts of SEO. Many people think that it's easier for ecommerce companies to decide on keywords as they only have to use keywords based on the products they sell. But they tend to forget that there can be different types of search queries for the same product, which you can't always take into account.
For example, people may be searching for a deal around a product. Therefore, if you haven't worked on those deals and discount keywords, you might miss out on some of those buyers.
You can use Google Keyword Planner for authentic keyword research. It will show you potential keywords around a particular product or service. It also shows you the search volume and bid number for keywords, which helps you understand the weight better.
Apart from the Keyword Planner, there are other paid tools that can help you with your keyword research like SEMrush, Moz's Keyword Explorer, etc. They even give you a competitive analysis on keywords. You can find out which keywords are working for your competitors and then update your keyword list accordingly.
Take Care of Out of Stock Pages
Products go out of stock all the time. What do you do about them? Do you simply shut the page down? You should be careful about this, because shutting down that page gives Google a wrong signal as it increases bounce rate. So Google then decreases your rank and eventually takes away a chunk of your traffic.
Instead, redirect it to another relevant page based on the keywords. Also, you can use tools like Screaming Frog regularly to identify your 404 error pages which will show up if you have taken down pages earlier. You should also use the Google Search Console to identify such errors.
Avoid using a permanent redirect if it's temporarily out of stock.
Improve Your Backlink Profile
Backlinks are extremely important for a better SERP rankings. For this, you have to work outside of your website and create backlinks through guest posts, social media posts, sponsored posts, etc.
Partnering with influencers is a great way to get relevant and strong backlinks. They can write a blog post about you and link to a relevant page on your site. Platforms like Grin can help you discover influencers with high authority websites so that you get sustainable backlinks.
For example, Fashion blogger, Tala Samman, included links to product pages for the eyewear brand, Eyewa, in one of her blog posts.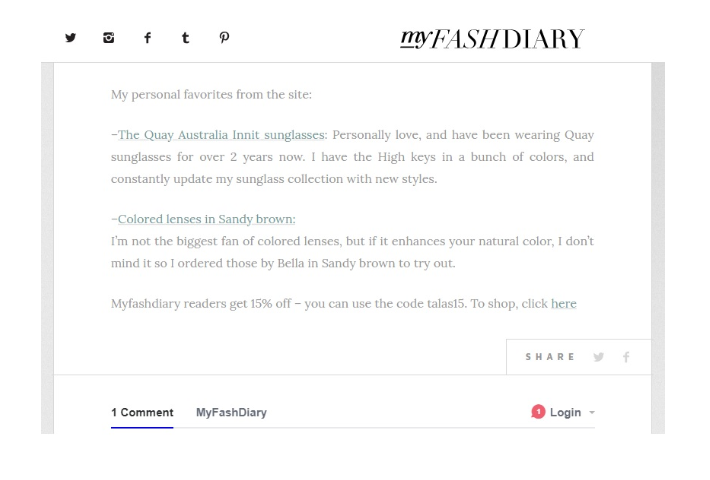 Images Source: myFASHDIARY
Find out where your competitors are getting backlinks from. You can do backlink research on BuzzSumo or you can get an idea of your competitors' backlinks using Ahrefs.
Use Long-Tail Keywords
People often underestimate the power of long-tail keywords because they normally have smaller search volumes. But they are highly relevant, so using them can get you relevant traffic. This can also help decrease your bounce rate since the people visiting your site through those search results are highly relevant.
It's very difficult to get high ranks for short keywords like "shoes" or at least it might take a lot of time. On the other hand, it's not as difficult to get a higher rank for something more specific like, "pink baby shoes" which is a long-tail keyword and highly relevant.
In ecommerce, there are a lot of opportunities to create long-tail keywords because of the variety of colors, sizes, materials, and other features. You should leverage this opportunity for highly relevant traffic.
Here is how Amazon is using the long-tail keyword, "levaca Womens Long Sleeve Button Cowl Neck Casual Slim Tunic Tops with Pockets," to get very targeted traffic.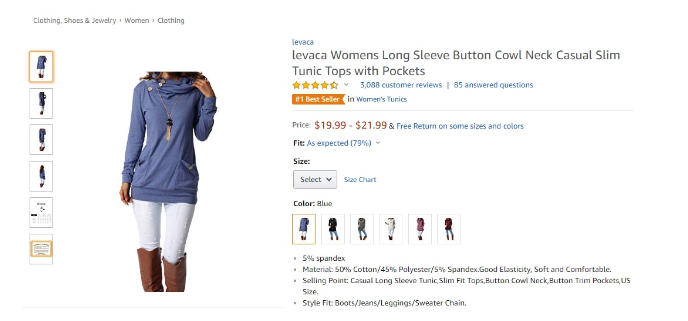 Source: Amazon.com
Stay Updated in Terms of Security
Stay updated in terms of technology because it has a significant impact on your security system. Data security is a sensitive issue worldwide and it's a punishable offense if your security is not tight enough. However, most of the time, technology depends upon the ecommerce platform you have chosen.
In such cases, make sure your platform does regular technology and security updates.
Remove Duplicate Content
There shouldn't be any duplicate content on your website. It's a very difficult proposition for ecommerce companies as there are lots of similar or almost similar products on their websites. Therefore, descriptions are bound to be similar, but you have to be very cautious as similar content has a negative impact on SEO.
It's mandatory that you create somewhat unique content each time you write about a product, a category, or a sub-category. Your customers' reviews will help you here too. They make your pages unique with different reviews.
Measure and Improve
Apart from following all of the tips above to improve your search visibility, you should also have analytics in place to see if your SEO is working. You can use Google Analytics to see your daily, monthly, and yearly traffic and of course, your traffic sources. Keep a close eye on your bounce rate to see what's working and what's not.
You should also do a behavioral analysis of your visitors. See how much average time they are spending on your website and on which pages. If your bounce rate is still high, find out which page they are leaving your website from and optimize it.
For ecommerce companies, it's very important to analyze abandoned carts and investigate the real reasons behind them. Get as much information as you can to understand what brings in traffic to your website and then work towards it.
Have you tried and benefited from any other SEO tips or strategies? Please share with us in the comment section below.