Home Services Marketing: Add $23k in Revenue By Recovering Lost Leads with Email Marketing

Ashley Ismailovski
CRO Operations Manager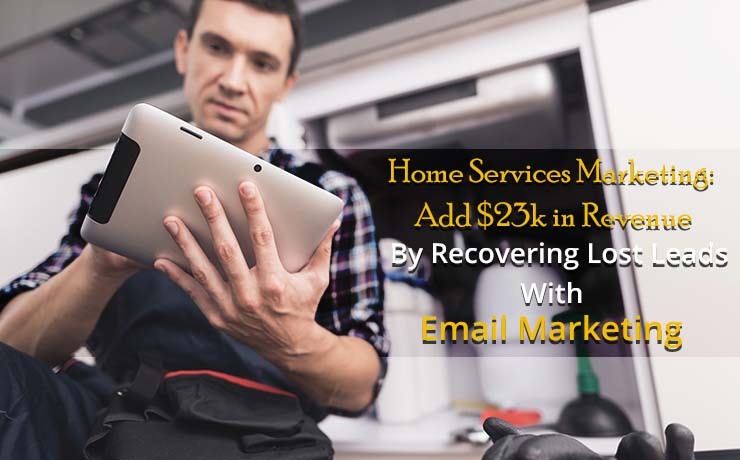 By: Ash Ismailovski
Businesses in the home services industry know how expensive it can be to attract leads in a heavily competitive space. Honey-Do-Men found themselves in an even more challenging position as the price of construction materials continued to see an increase at the beginning of 2022. With this in mind, we aimed to focus on recovering lost leads through email marketing.
What we did for this home remodeling & repair business was to send follow-up emails to leads who had previously been in contact with Honey-Do-Men, but had yet to convert. In this case, we leveraged the growing concerns about rising construction materials prices to create a sense of urgency in order to successfully recover lost leads – resulting in a closed deal that valued over $23,000. Read on to find out how!
Using Email Marketing to Recover Lost Leads: A How-To Guide
Implement List Segmentation to Send Tailored Email Content
Segmentation is one of the best ways to customize emails for different groups of customers based on their purchase history, geographic location, interests, and much more. Once you have effectively segmented your leads, you can start sending targeted emails.
Implementing engaged segments (that track activity like opens, clicks, and site visits) also allows you to see where leads are dropping off. You can also market to the "window shoppers" that might be inquiring or viewing information about specific services. You can identify this through the page(s) they visited and their behavior on your website, or by adding a dropdown to your on-site forms to collect service interest information.
Keep Your Brand at the Forefront of Customers' Minds with Monthly Email Campaigns
One way of keeping your brand top-of-mind is through recurring monthly emails. Keep in mind that since subscribers are receiving your emails because they have opted to do so and now, it's up to you to convert them with the right content.
Monthly emails should be concise and to the point with a clear Call-to-Action (CTA) and include links to your website and social media pages. In addition, if your business is organizing any upcoming events, such as community outreach programs, it's the perfect opportunity to entice your lost leads to sign-up and reengage with your brand.
Convey the Right Message at the Right Time with Email Automations
Sure, there's something to be said about crafting the perfect email campaign, but even more to be said about sending this message at exactly the right time. With email flows, you can take all the guesswork out of scheduling your campaigns by automating the process of sending your emails out at a time when they are most likely to be read and opened immediately.
Key email automations for the home services industry include a Welcome Series, Customer Winback, and Browse Abandonment flows. A Welcome Series works to warm your lead when they first subscribe for email campaigns by educating them on your business and what you have to offer. A Customer Winback flow is used to win-back lost leads or leads that previously converted but might be looking for more work. Here, you can use incentivized offers to get them to reengage with your brand. And finally, a Browse Abandonment flow works to target some low-intent visitors that might just be shopping around for a quote, but are still worth reaching out to. Send them automated emails directly following their website visit to get them to fill out a contact form, or give you a call.
Create a Sense of Urgency with Limited-Time Promotions
Just like what Honey-Do-Men has done with their recent email campaigns, leveraging time-sensitive events and promotions can help to bring in timely conversions. With the price of construction materials on the rise, Honey-Do-Men was able to create a sense of urgency by promising to honor original estimates for customers who called before a set date and time.
Lost leads who were still considering whether to engage Honey-Do-Men's services were given a limited timeframe within which to take advantage of the opportunity to lock-in their estimates. In this case, we were able to reverse one of their lost estimates from over a year ago! Even though prices had gone up since this lead first approached the business, Honey-Do-Men was able to be the "hero" of this story by honoring the original quoted price and closing the deal!
SmartSites Can Help Your Home Service Business Develop an Email Marketing Strategy to Recover Lost Leads
Are you looking for conversion rate optimization (CRO) services that can help you recover lost leads for your home service business? SmartSites can help you craft successful email & SMS campaigns that help you grow your audience, sustain brand awareness, and drive repeat purchases. Our CRO Specialists focus on your business's goals, be it lead generation or ecommerce sales, to implement personalized messaging that gets the right message out at the perfect time. Get in touch with SmartSites today to get started!