Outdoor pond design and construction company redesigns their website with the help of local digital agency, SmartSites. 
Imagine the sounds of a soft waterfall trickling into a Koi Fish Pond. It's subtle and serene; clear water decorates the colorful rocks. A few lily pads float around on the surface, and in the corner is a bright orange Koi Fish, flipping tricks in and out of the water. This scene seems too good to be true, but it's not; in fact, Fitz's Fish Ponds makes this a reality for homeowners across all of the Tri-State area. Now, with their website freshly redesigned, they will be able to service even more homes in the area and continue bringing serenity to all those who want it.
Fitz's Fish Ponds has been around for almost a decade. Owner Brian Fitzsimmons built his first pond at age 13 in his parent's backyard while they were away on vacation. This hobby turned into a lifelong passion for aquatic services and Brian decided to open Fitz's Fish Pond as a way to share his passion with others.
Fitz's previous web presence operated as two distinct websites: one under performing  website and a separate online shop from which customers could purchase pond supplies and equipment. In order to improve the informational side of the business, Fitz's Fish Pond engaged  SmartSites to revamp the site, and tackle the eCommerce portion at a later date. Additionally, SmartSites implemented unique SEO and Paid Search strategies in order to further promote sales and site visits. 

There were a variety of avenues from which SmartSites could approach this project. Given that Fitz's Fish Ponds offers a lot of different services, it was important that a proper website plan and layout be in place, before any design moved forward. Smartsites individually listed each pond service and fish care solution offered by Fitz, so as to avoid customer confusion.  Additionally, SmartSites built out a more robust construction portion of the new site, with an expanded information base for potential customers to reference. 
Then came the images; Fitz's Fish Pond has an incredibly impressive portfolio of work they have completed, and SmartSites sought to highlight that with a unique image gallery that properly showcased their custom designs.
The previous site featured a variety of pond calculators, and it was important that the new site also includes this feature. This way homeowners and prospective pond builders can easily estimate their projected costs.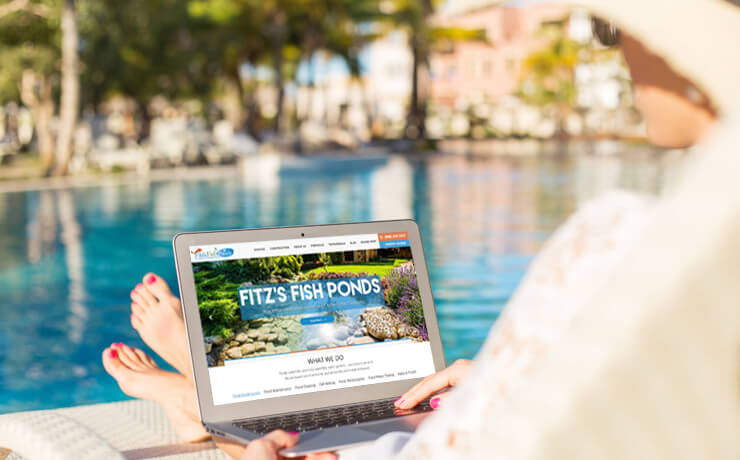 The new site, built on the open-source WordPress platform, is easy to update and extremely user-friendly. As time goes on, SmartSites will continue to market the site with regular blogging and digital advertising. To start planning your own water-based haven, swim over to fitzfishponds.com or call 908-315-7377 today!