There is little doubt that reviews can have a significant impact on businesses, especially in a highly competitive marketplace. What your Google reviews say about your business may mean the difference between a customer who takes a chance on you and a customer who walks away.
Consumers trust recommendations of others more than anything else, even if it is a third party they don't know personally. Eighty-five percent of people say an online review is as good as a personal recommendation.
Just how worried should you be about Google reviews — good and bad? The answer isn't a simple one. Google reviews impact your business in numerous ways. Here are five of them.
Improve Search Engine Rank
Competing for Internet traffic is a special elixir that is difficult to perfect. The tactics that work today to drive traffic to your site may not work tomorrow. When you factor in reviews, the waters become even murkier. There is no doubt that reviews impact the way consumers look at your site, though, and whether or not they want to visit in the first place.
If you do your own search, you'll see that those top results are for businesses with a high number of reviews.
Build Trust
Building trust with your customers isn't an easy task. When they first come in contact with your business, they have no reason to trust you or what you say. Before choosing to do business with a new company, most people ask for recommendations and go online to read through reviews. If you are upfront and share reviews with site visitors, they are much more likely to trust that you have their best interests at heart.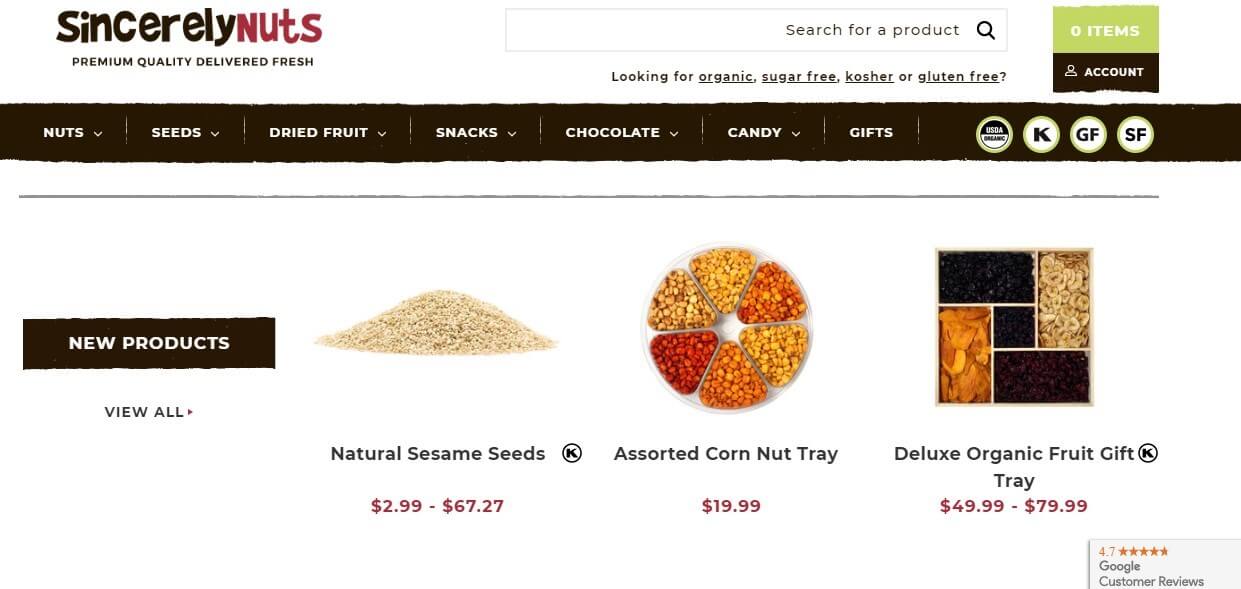 Sincerely Nuts does a good job at sharing reviews about their products on their website. Note the small box in the lower left corner that clearly shows they have a 4.7-star rating via Google customer reviews. In addition to adding a link to Google reviews, Sincerely Nuts allows customers to leave reviews on individual products via a similar star rating system.
Track in Local Searches
Another benefit of your customers reviewing your goods and services on Google is that you'll track in local searches. This is particularly beneficial for brick and mortar businesses, such as restaurants, lawn care and other localized companies. While ranking well in search engines never hurts, some businesses don't benefit from someone halfway around the world looking at their website.
Imagine looking for a family-friendly restaurant where your family of four can go for dinner. You pull out your smartphone and do a quick search for "family friendly restaurants." Several in your area pull up in the search results, but one stands out because it has 4.5 out of 5 stars. Which one are you most likely to click on?
Provide the Triple Threat
The Google Local 3-Pack is made up of a local map, reviews and a link to the business' website. Also, you can see the star rating without actually clicking on the reviews, as well as how many people have reviewed that business. Then, click on a single link to get directions to the company.
A link that takes the user directly to directions is one of the most powerful tools Google provides and is intricately tied into reviews, with a star rating, map, website link and directions option all listed within the search results.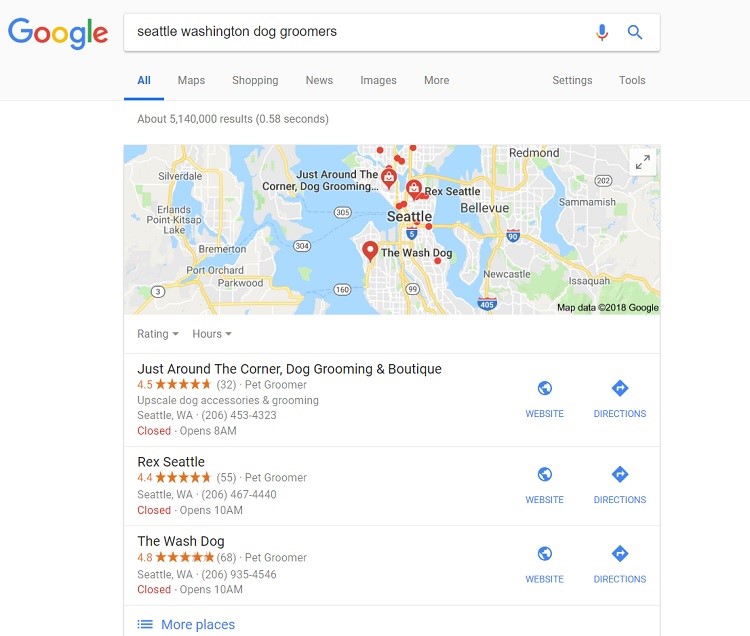 In the image above, the local results are for Seattle, Washington, dog grooming businesses. The top three results are shown — note that they have many reviews and a high star rating of over four stars. Then, a map shows the area with markers for these businesses. People can easily click on "directions" and go right to the company, or they can use the phone number to contact them.
While there is a "more places" option, people are much less likely to browse through additional selections than to just choose the top-rated businesses.
Improve Your Reputation
Reviews are part of the equation, but what people say within those reviews and how you respond is equally as important. What if someone leaves a negative review on Google? Fortunately, business owners have the opportunity to respond to such negative feedback. This allows you to neutralize some of the impact of a negative review, as consumers will watch how you handled the complaint and whether you tried to make things right.
You can't be perfect 100 percent of the time, and consumers understand that. However, you can make an effort to always care about your customers and whether they had a good experience. Your responses will reflect your customer service attitude.
Pay Attention, But Don't Stress Out
Ask your most loyal customers to rate your business on Google and make it easy for those visiting your site to find your Google reviews. However, don't spend too much time overthinking the process — reviews should happen organically.
While it is okay to remind customers to leave their thoughts for others, it is never okay to put up fake reviews or bribe people for good reviews. Consumers want honest feedback on you and what you do, and they know they can get reliable reviews from others.
This guest post is written by Lexie Lu, a freelance designer and blogger. She owns the design blog Design Roast, and you can find her work on Manta, CreativeBloq and Marketo. To keep up with Lexie, check out her Twitter @lexieludesigner.