PantSupply keeps men feeling fresh and looking sharp with their brand new website!
You know that feeling you get when you slip on a great-fitting new pair of pants? Comfort and class just pour right out of you. That's exactly what PantSupply aimed to express with the creation of their very own website.
A new men's fashion line, PantSupply offers the solution to men's shopping; it is clothing made for men, by men. They wanted to build a modern website, custom tailored to fit the lifestyle of their fashionable, male buyers. They designed with millennial gentlemen in mind and sought to provide the perfect trouser solution that would disrupt the overwhelming hold that jeans seem to have on the fashion industry. Still, they were unsure about the next steps in terms of launching their digital presence.
Enter SmartSites: the New Jersey-based, full-service digital marketing agency knew exactly how to build a beautiful website to complement PantSupply's trendy garments. SmartSites operated with two core foci in mind: quantity AND quality. First, they had to strategically plan out the site to include all of the apparel and garment types PantSupply offers. Despite their name, PantSupply is more than just men's pants; they also sell a complete line of printed t-shirts and polos, as well as outerwear in the form of blazers and sweaters.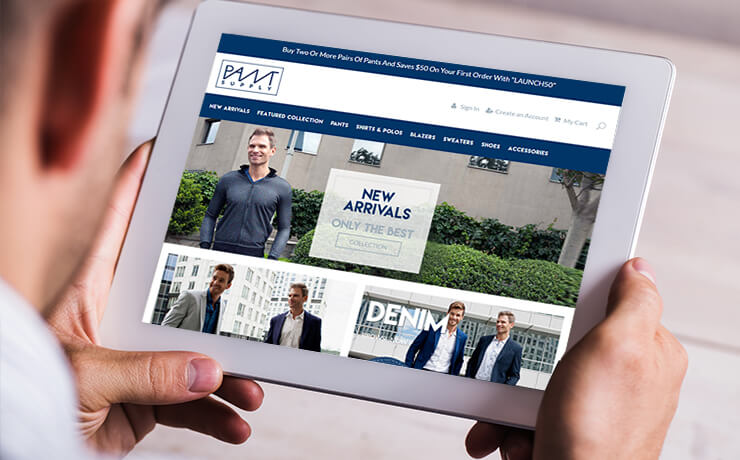 Implementing filters for each clothing type, such as shopping by color and size, were just a few methods SmartSites used to keep the customer as the prime focus. The site also has a Featured Collections page to show off some of their most popular items, as well as one for New Arrivals, so shoppers can check out the latest fashions as they hit the market.
While building PantSupply's website, SmartSites' intent was to bring about total success for the company. They built the site on the Magento 2.0 platform, which is the latest version of the Ecommerce powerhouse. Magento accounts for 29.1 % of the total market share of Ecommerce sites, and is therefore the obvious choice for those looking to build online sales.
SmartSites and PantSupply are so confident in the new site that they're offering a discount for new customers. First-time shoppers perusing PantSupply.com can take $50 off their orders when they buy two or more pairs of pants. Use code 'LAUNCH50" to see the savings.
Pair PantSupply's sleek website with their fashion-forward apparel, and it can only lead to two things: Sexy Styles and Successful Sales! For more information on pantsupply.com, email info@pantsupply.com or call them at 201-994-1994.