Raleigh-based IaaS provider launches sleek new website!
Living in a digitally-centric world, most people would agree that data is a necessity for all those looking to connect. How data works, however, and more importantly, how data is stored and preserved, is a more confusing aspect of the digital world that many do not delve into too deeply. Desktop to Data Center provider ANEXIO believes that data is a 24/7 job and commitment should never wane. They therefore offer world-class colocation, networking, storage, and backup services.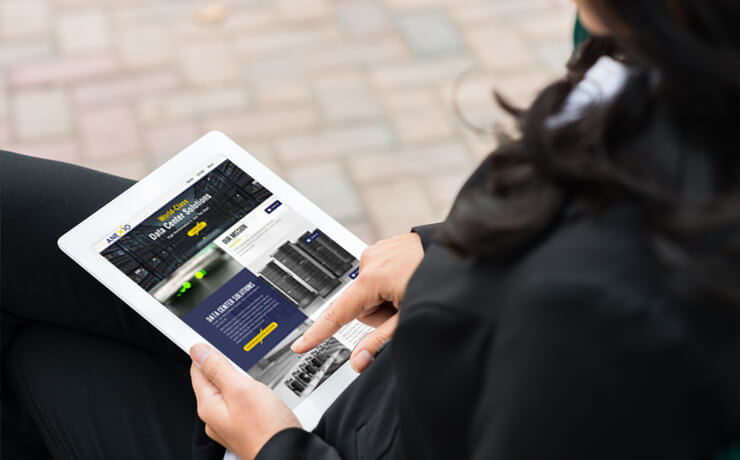 ANEXIO operates as a premier Infrastructure as a Service provider, offering their IT and data center solutions to industries including Financial, Healthcare, Technology, Professional Services, and Entertainment & Media. Their previous website did little to highlight the quality of the company and the portfolio of the desktop to data center services that they offered.
It was clearly time for a re-imagined web presence. While ANEXIO is an expert in data storage, the creation of new content and implementation of a comprehensive website structure was an outside job. They therefore enlisted the expertise of SmartSites, a New Jersey-based digital agency with lots of experience in B2B site-building. Together, ANEXIO and SmartSites re-configured the website's design, layout, and content to properly reflect the ANEXIO's Desktop to Data Center mission.
Rethinking the new site seemed straightforward, but the project proved anything but. In addition to making the new site aesthetically-pleasing, SmartSites implemented a Live Chat feature for immediate attention. Separate contact forms for distinct departments were also installed so that the entire ANEXIO team was no longer inundated with the general inquiry forms all at once. SmartSites also made anexio.com easily viewable from a smartphone, too.

A resource tab for additional reading material was another worthwhile idea that became a reality on the new site. The new branding material is now consistent across all media; fact sheets, downloadable forms, and documents are available for further exploration. The ANEXIO team now has easy access to all necessary information at their disposal.
This seemingly simple project was not without its challenges; the ANEXIO team, located in Raleigh, North Carolina, sought a relationship with a web team that went beyond the digital. In this ultra-virtual world, SmartSites aimed to prove their commitment to providing a personal touch. Team members Anita and Matt therefore took the opportunity to visit the ANEXIO office while on their way back from "Internet Summit 16" in November of 2016. Their efforts were matched by the ANEXIO Team, whose communication stayed strong despite the geographic distance.
As the prevalence of cloud services and managed IT solutions continues to strengthen, SmartSites is proud to be at the forefront of developing new sites in this industry. To learn more about ANEXIO's services visit anexio.com or fill out a contact form today!