6 Automated Email Flows Every eCommerce Business Should Use

Ashley Ismailovski
CRO Operations Manager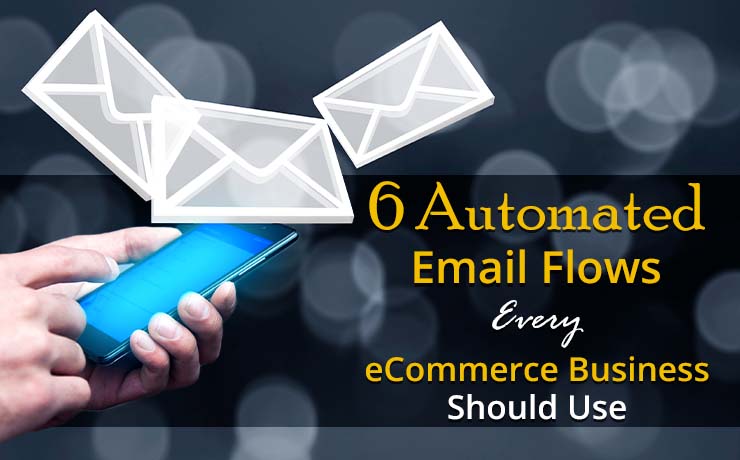 By: Ash Ismailovski, CRO Operations Manager
Digital marketing is the cornerstone of every eCommerce business and is key to generating top-of-mind recall and call-to-action (CTA) in customers. While various marketing channels have an important role in generating sales, email marketing is a tried-and-true channel that drives repeat purchases, nurtures your brand's relationship with the customer, and converts your subscriber list to a growing and engaged community. Through automated email flows, marketers can send perfectly-timed messages to customers based on a number of different behaviors such as recent activity on-site, time since their last purchase, and much more. Here, we'll share six automated email flows that every eCommerce brand should add to their marketing strategy. 
Welcome Series
A Welcome Series is the first touchpoint you will have with new subscribers through a sequence of emails which are automatically sent to new users after they sign up to receive your email campaigns. This is a critical point in the customer journey to interact with your brand and receive their first call-to-action that encourages them to purchase your products, goods, or services. To capitalize on this opportunity, eCommerce brands can consider offering personalized discounts and offers, introducing rewards and membership programs, or providing information on gifts, shipping, and other touchpoints like your mobile app. Whatever your call-to-action is, make sure it's clear and featured prominently in your emails. 
Research has shown that eCommerce brands that implement personalized offers in their automated email flows are more likely to lead to higher sales and conversion rates. In addition, the revenue per recipient and average order value (AOV) are also shown to be significantly higher in this sequence when compared to other automations. It's important to remember that when subscribers sign up with your brand as part of the mailing list, this indicates a moment of high buying intent as they actively provided their contact details to trigger this email series. It's vital that you take advantage of this intent, and provide your customers with an enticing offer that drives them back to your website to make a purchase. 
Cart Abandonment
There are many reasons why a customer might abandon their cart on your website. They might have been price shopping between you and a competitor's site, been distracted by a more attractive offer, or otherwise lost interest in completing their purchase somewhere along the line. Studies have shown that 3 out of 4 people usually leave an eCommerce site without finishing their order. One way to potentially regain this lost revenue is by sending an automated cart abandonment email to follow up with a prospective customer who left halfway through the checkout process. Cart abandonment emails are typically sent within 5 hours of the user leaving your site, and are meant to remind the user of the items left sitting in their shopping cart. This gives you an opportunity to offer an incentive for them to return to complete their purchase. 
According to research, cart abandonment emails historically receive fairly high engagement, with about half of cart abandonment emails opened and an average click-through rate of about 21% across industries. Of the clicks observed, nearly half of them can be expected to result in a completed purchase on average; successfully recovering lost revenue. This type of automated email offers you a cost-effective and valuable return on investment.
Back-In-Stock
The most frustrating notification you could receive from any eCommerce store is that the product you have been eyeing for a while is out of stock. Unfortunately for the brand, this often leads to lost sales as buyers will usually seek out a competitor's store that can offer them the same item, even if they might be selling it for a much higher price. In the long-term, this can damage your customer relationships and impression of the brand as users are unable to purchase an item that they expect to be readily available. However, one way you can turn this less than satisfying experience into a positive customer interaction is by allowing customers to sign-up for a back-in-stock email notification.
Back-in-stock notifications are a great way to re-engage customers who were previously disappointed to find out they couldn't pick up their favorite item the last time they were on your site. This is a great opportunity to recover lost revenue as well as create a sense of urgency for your users to act now before it's gone again! Moreover, this helps maintain brand interaction even in users who might have otherwise been lost to competitors.
Transactional Emails
Transactional emails are the bread-and-butter of many eCommerce businesses. They serve a functional purpose rather than fulfilling a marketing purpose caused by interactions with a feature on your website, service, or mobile app. Instead, these emails provide an update to a transaction or request made by the customer. As a result, these emails are usually personalized to each person's unique circumstances or order. Transactional emails have significantly higher open and click rates than any other email you could send to your customers. Think about it, how many times do you open your order or shipping confirmation emails to see when your package is going to arrive? With so many eyes on these emails, this is a critical opportunity to double-up as a marketing strategy to re-engage customers by offering them suggested products, sending a "thank you" offer, or asking them to engage with your brand on social media. Our partner, Spently, offers Shopify stores the ability to personalize their transactional emails with product recommendations, conditional discounts, and more to drive further sales.
Thank You Emails
Compared to a brick-and-mortar store which gets an opportunity to interact with its customers physically, an eCommerce store does not have the same privilege. Therefore, it can be harder to build a personal relationship with each one of your customers. One important automated email that many businesses should consider incorporating in order to build brand loyalty is a Thank You email sequence. Thank You emails, as you might have already guessed, are sent to users following a purchase on your website to thank them for their business. This provides your customers with a sense of recognition for their loyalty and support. In addition, this gives your brand the opportunity to further interact with the customer and develop a stronger and more personal relationship.
The point of this sequence is to show your appreciation to your subscribers for their support of your business. It's important to remember that these users have taken time from their day to make a purchase, and it is expected that you will show some appreciation. In many cases, brands will also add an exclusive offer to their Thank You emails in order to drive repeat purchases.
Re-engagement Emails
A re-engagement email is usually sent to "win-back" an inactive customer who has in the past signed up for your email list or made a purchase, but has become less engaged recently. This email automation aims to draw back lost customer loyalty and potential revenue by creating attractive and captivating CTAs that compel the user to re-engage with the brand. However, it's important to note that customer win-back flows are more effective with well-timed and strategic messages customized to re-engage the customers. Crafting a personalized message with an incentive based on a user's preferences and purchase history is proven to be far more effective than a generic re-engagement offer.
You spend a lot of money on acquiring new customers through your digital marketing efforts, don't lose them by not reaching out! Customer relationships are a two-way street, and without an effort from the brand in terms of outreach, most customers will not be back for recurring purchases. In comparison to getting a new customer, successfully retaining an existing customer will be more cost-effective and time-saving, while allowing you the opportunity to strengthen brand engagement and customer relationships.
Why Choose SmartSites?
Founded by brothers Alex and Michael Melen in 2011, SmartSites is a digital marketing agency based in New Jersey that specializes in Web Design & Development, Pay-Per-Click (PPC), Search Engine Optimization (SEO), and Conversion Rate Optimization (CRO) services. We are one of the fastest-growing agencies in the United States and have expanded our reach to international clients. We focus on result-driven, effective strategies that will elevate your business to new heights and surpass your expectations. For more information about our digital marketing services, please do not hesitate to contact us at 201-870-6000 or email us at contact@smartsites.com.